Editor's Note: This is the first installment of a four-part series that shares the ins and outs for developing direct response ads that engage consumers and motivate them to act — call, click, and convert!
---
When people smile at your ads, that's a good response, yes? When they remember your ads, like and share them, those are all positive responses to your ads. Right? Well …
While those are good responses, I suspect you were hoping for … wishing for … and needing more. Especially for our clients, marketers promoting a considered purchase such as insurance and financial services products — you do require more. You really need consumers to:
Request sales information
Contact representatives to enter a sales conversation
Agree to invest their hard-earned money and BUY!
If you're nodding along, then this is your blog post. More accurately, the first of a series of blog posts dedicated to developing winning direct response ads. In digital, direct mail and video media, DMW has been crafting winning response ads that persuade and motivate consumers to take buying actions for our clients. But what you'd really like to know is, "how?"
In these posts, we're sharing a peek behind the curtain at the how-to's for creating response winners in digital, direct mail, and on TV. This first post will set up the overarching direct response creative strategy. Because you have to plan the work before you can work the plan.
Our first goal: Define the goal
From the get go, direct response (DR) marketing has a different goal from 80% of the ads you see, which are more about branding. And, as you'll see, DR end-communications are also quite different.
Some timid Ad Managers may balk, but when the goal is "get me leads: now!" a DRTV spot leveraging brand graphics standards to support a strong call to action and offer can make you a hero.
As a series of blog posts, not a college marketing course, we'll need to quickly skim over a lot of background. In short … Branding: it's all about differentiation, a unique selling proposition (USP), positioning, and awareness. And it's all good. But for our clients, and possibly your business too, the reality is that Branding is a means to the ultimate end we're focused on: Sales.
Many of our clients just don't have the war chest that a dedicated branding campaign demands. And (while this may shock some readers) not all business cases require that expense.
Time and again, we have met — and surpassed — lead and sales goals, launching new products and services with zero budget set aside for exclusive brand campaigns. The goal our clients gave us was not "awareness." It was single-minded and straightforward: jump directly to GO, start generating qualified leads, and make sales happen. Our response was "Okay, will do."
Direct response ads have a different goal than branding ads: It's all about the sale!
Creating a Winner: The Big 3
With that goal in mind, our efforts do not center around many of the popular buzz words tossed around when the conversation goes to "creative." Storytelling. Engagement. Brand Experience. We're aware of them, and we keep them in mind, But, our clients' only goal isn't awareness and memorability. So we're not looking for likes, shares, and user-generated content. Meghan Trainor may be "All About That Bass." We're all about That Sale!
While today's world has few absolutes, the anatomy of winning DR creative has its hard and fast attributes. Regardless of industry, seasonality, competition, or any other factors, to create winning direct response creative, you will always start with these 3 key elements:
1. Self-interest and WIIFM.
Spelled out, the acronym reads: "What's In It For Me?" Winning DR creative is all about self-interest. To get any consumer to act now, you must answer that key question for them. Immediately. If you can do it in a clever headline, go for it. Otherwise, skip the clever and cut to the chase. What'll you do for me? How do you solve my problem; meet my needs? Do you offer great value?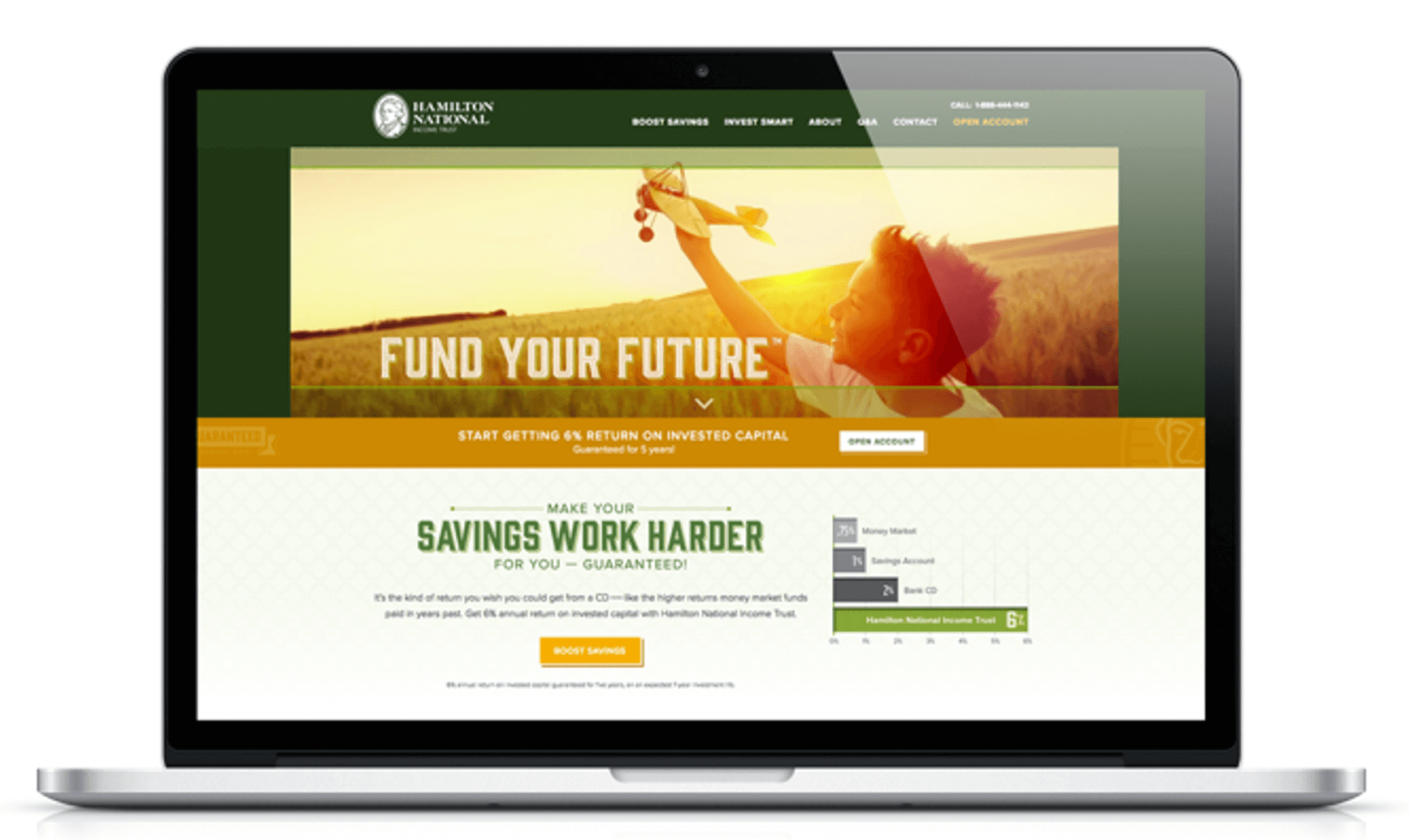 WIIFM in action — rather than tell a brand story to launch a new financial service, the website and TV was all about "Your future" and "Making your savings work harder."
Targeting is critical in direct response. From a direct creative POV, that means intimately targeting an individual's hopes, dreams, desires. Plus their problems, hurdles, and frustrations. Get into your consumer's mind. Walk a mile in their shoes. Talk to them, personally. Our challenge is devising a new, fresh way to get a jaded, marketing-weary prospect's attention. Then, finding the right button. And figuring out how to hit it dead-on. If that sounds like a creative puzzle and challenge, well it is. And it's actually fun to figure out and overcome.
2. What's the Big Deal?
How often does a Creative Brief read "We've got the lowest price plus top quality in this category."? Likely never. While everyone is eyeing that price tag, practicality (and profit) says the price can only go so low. So, we frequently find ourselves thinking beyond price and discounts to craft an offer they won't want to refuse.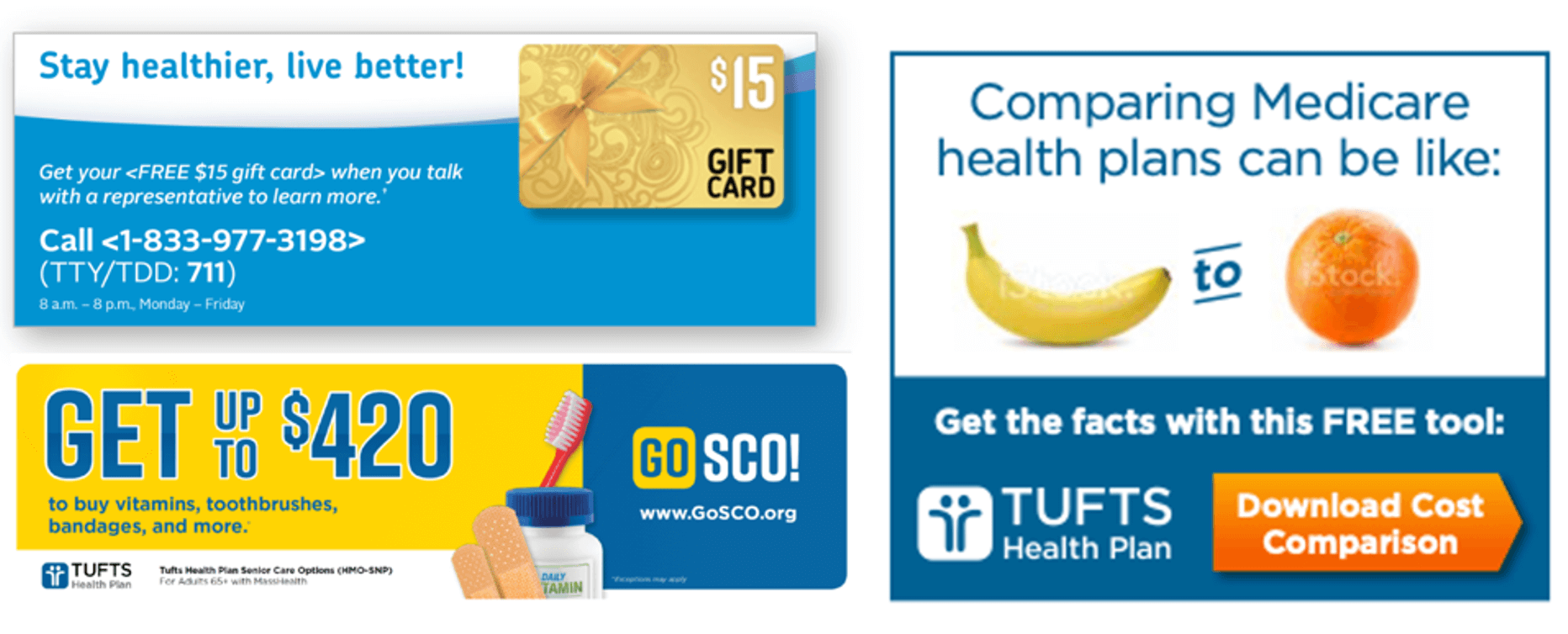 Three examples of the many ways to build an offer: Top Left: offer a cash reward; Bottom Left: present a standard plan benefit as an immediate, tangible reward; Right: pitch your marketing information as a useful tool.
Perceived value is the key. Making folks feel like this is, overall, the better deal. And getting them to take action. Sometimes, it's finding words and graphics to make the offer "sing." One time-honored example: which copy line gets better response … "Buy one get one free," or "1/2 Price"? (It's the former.) But it's not always about the money.
"Time is money," the adage goes. Putting in less effort has value, too. Hassle-free returns can be part of a good offer. As well as Guaranteed Satisfaction. Expedited Service, maybe coined as "5-minute Priority Service." Or a "Special Welcome Hotline." Samples, Free information, proprietary downloads, helpful tools, no-cost consulting … there are limitless "offers" ready to be invented and implemented.
Creative brainstorming can devise new twists to "The Deal" to dramatize your offer, dial up that perceived value, and urge folks to respond.
3. Tell enough to sell.
I've always loved Abe Lincoln's answer to "How long should a man's legs be?" His reply: "Long enough to reach the floor." How much copy do you need? There is no hard and fast rule. But for 20 years, from 2-minute TV commercials to 2-page sales letters, I've seen that too often, less sell is in fact less. To generate qualified bottom-of-funnel response, you must tell enough to inform, persuade, and motivate.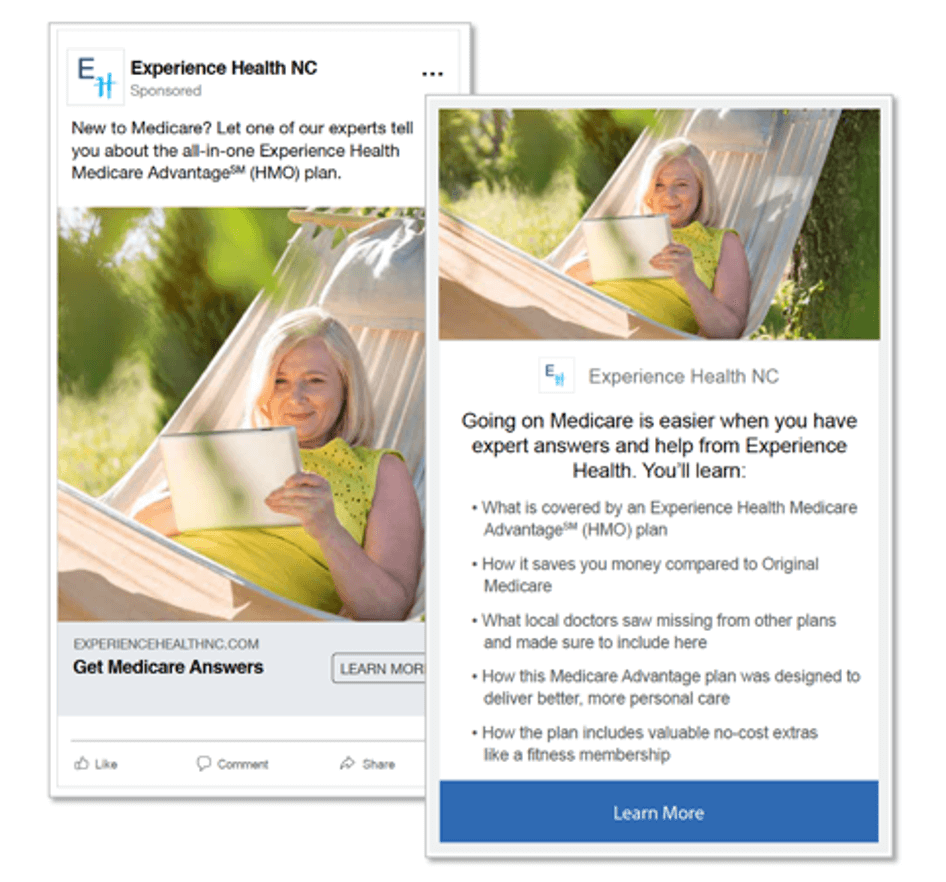 One example of "long copy" DMW has made work gangbusters is the Facebook lead generation ad format, which lets you stretch beyond their standard newsfeed ad's character count.
That does not mean running on and on! In today's "swipe left" media mode, it's all about "Tell me quick and tell me true, or else, my dear, the hell with you." As noted above, you've got to make your offer fast. Be Direct — it's the name of this game, after all.
You'll find the proof is in the testing: just don't short-change your sales pitch. You'd never lay down a law that mandated all your sales reps simply stop talking the second they hit 100 words in every sales conversation. You'd lose far too many sales.
The upshot: never bore a prospect. Don't chase them away with tons of text. DO find a way to tell a complete and motivating sales story to get the maximum number of qualified leads. Sorry, this one's not hard and fast, but that's the "fun" of DR.
Targeting is critical in direct response. That means intimately targeting an individual's hopes, dreams, and desires.
When is your CTA less than a CTA?
A final thought on building DR creative: A winning Call To Action (CTA) is more than "Call Today," "Click Here," or "Learn More." That may indeed be all the room you have in an action button online. But your consumer needs more than that to make them reach out and engage in the sales process. So how you set up that button is critical to prompt the action you want.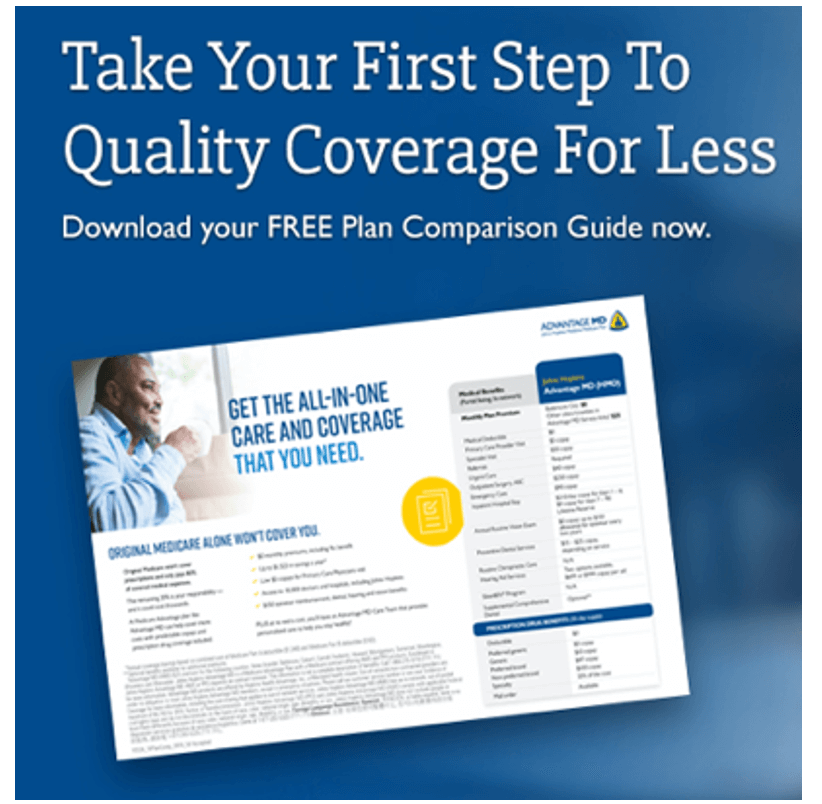 If I'm searching for a specific brand name item, and I see it at a great price, all I may need is a simple prompt to "Buy Now." It's different for marketers of Medicare health insurance plans, auto insurance, other financial services. When you're promoting a considered purchase that consumers aren't sure they want to shop for — or even need at all — you've just got to be more persuasive!
To maximize response, you'll want to sum up that offer discussed earlier. Make a quick mini-pitch as your "total" CTA. Remind them of the good they desire, or the bad they want to avoid.
Now, let's get specific.
Okay. There's the Big Picture on winning creative. Clarifying the unique goals and overarching techniques of DR Creative. Watch for a coming series of posts that share essential to-dos for each of the highest-performing media channels: Direct Mail, DRTV, and Digital.
Can't wait to create more response from your current campaign in any medium — or a full omnichannel campaign? Contact DMW today for a no-obligation review of your creative in market. We'll be happy to dissect it and serve up top-line recommendations!