HOW REMOVING THE 20% TEXT LIMIT RULE LEVELS THE TESTING FIELD FOR WORDS VS. PICTURES
"Disapproved Ad." How many of you have gotten that message from Facebook over the years?
Well, great news! As of September 2020, the bane of many a digital marketer — the 20% text rule for images — has been dropped from Facebook's advertising guidelines.
Facebook has grown into a great medium. When Facebook was launched back in 2004, it was the start of the social media revolution — for people and for marketers. It was so popular, Hollywood even made a blockbuster movie about its founding.
Today, Facebook has more than 2.7 billion users worldwide. Businesses spend nearly $70 billion per year on media advertising on the platform.* And it is a proven medium we've used to generate leads for a variety of clients — from health plans, to home warranty, to vintage auto insurance.
But that 20% rule limiting text, with a rather arbitrary test to determine infractions, has always been a hurdle. Now … it's gone!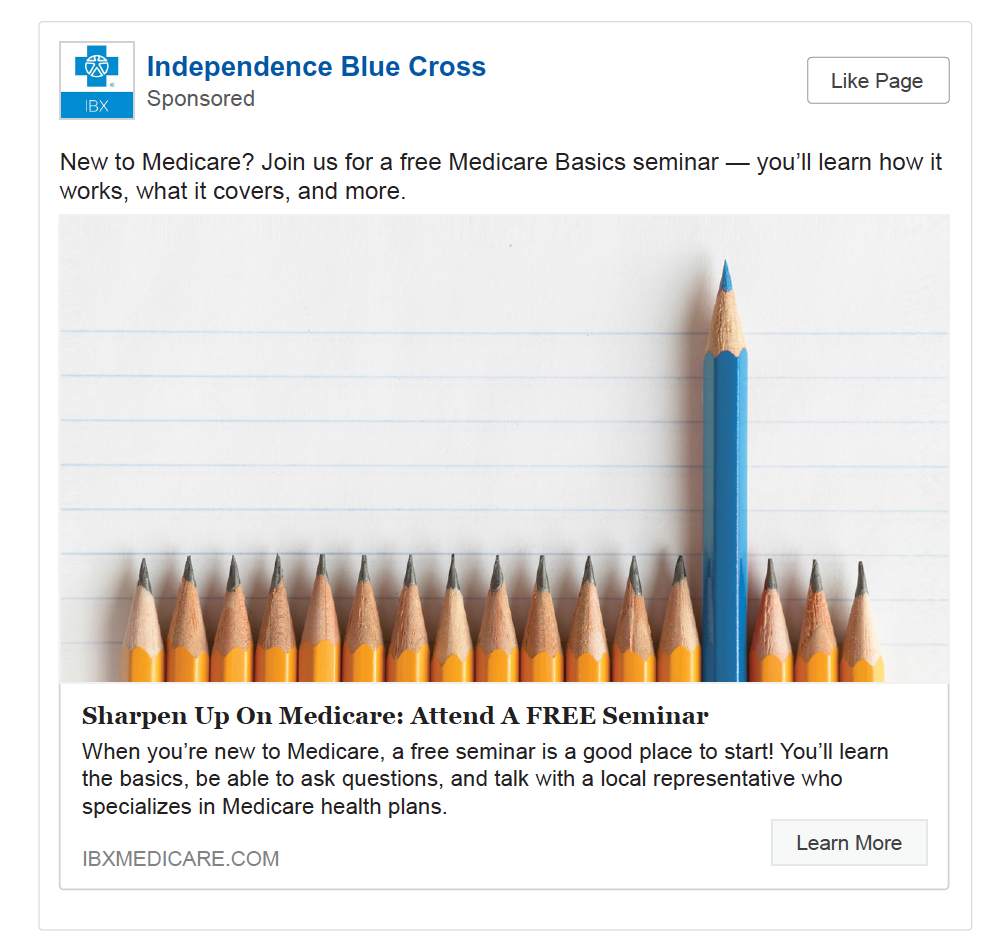 Oftentimes, a provocative image can put a sharper point on your message and be more effective at grabbing your target audience's attention than using callout text on the image itself.
As a digital marketer, what does Facebook's 20% rule change mean for you?
Opportunity. Now, you can focus on honing your creative — the balance between imagery and copy — without the restrictions of an outside entity that knows nothing about your brand, your strategy or, arguably, your target audience.
Steve Gupton, DMW Associate Creative Director, reacted to the news, "It's about time! Now we can spend more time crafting the ads, and making them work harder to generate results for our clients." Gupton continued, "Facebook is such a great way to reach our target audiences, and this new rule change makes it even better!"
Facebook is all about images. But don't discount the power of words.
The Facebook platform thrives on capturing attention with images. People love to post images of their personal lives, even professional careers — with text giving the image context (whether that text is in the image itself, or in the post description).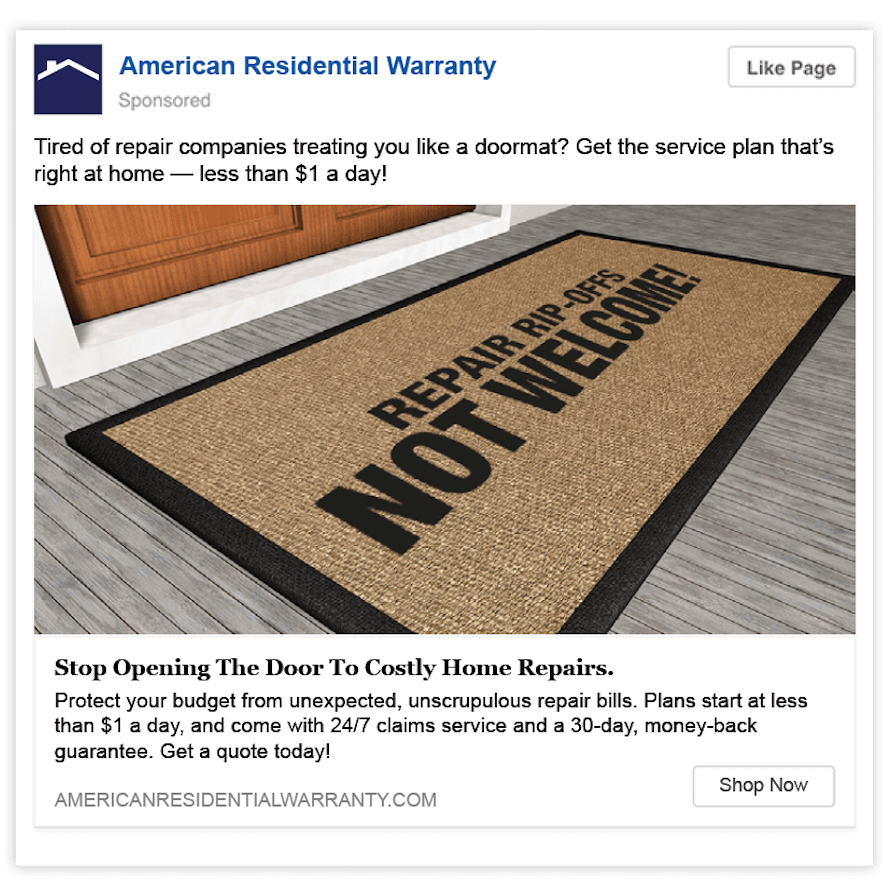 Here we used Facebook's 20% Text Rule to our advantage. The client product naturally led to a conceptual image with creative use of embedded text — plus the lead generation campaign was a welcome success!
DMW's Digital Marketing Manager, John Garland, had this reaction to the Facebook 20% text rule news: "To be sure, there are plenty of posts that are just text, but let's face it, your eyes typically get drawn to pictures before words if the two are combined. So I think it's important to continue focusing on imagery to pull a person in, while calling out a benefit, action, brand, etc."
Garland also stressed the need for more testing now that ad restrictions are relaxed. "Since Facebook has removed the 20% rule and made it a best practice instead, I think it is worth testing more text overlayed in an image — and even a text-only ad with solid-color background or some other graphic treatment — to see which one performs best. Everything is worth testing at least once."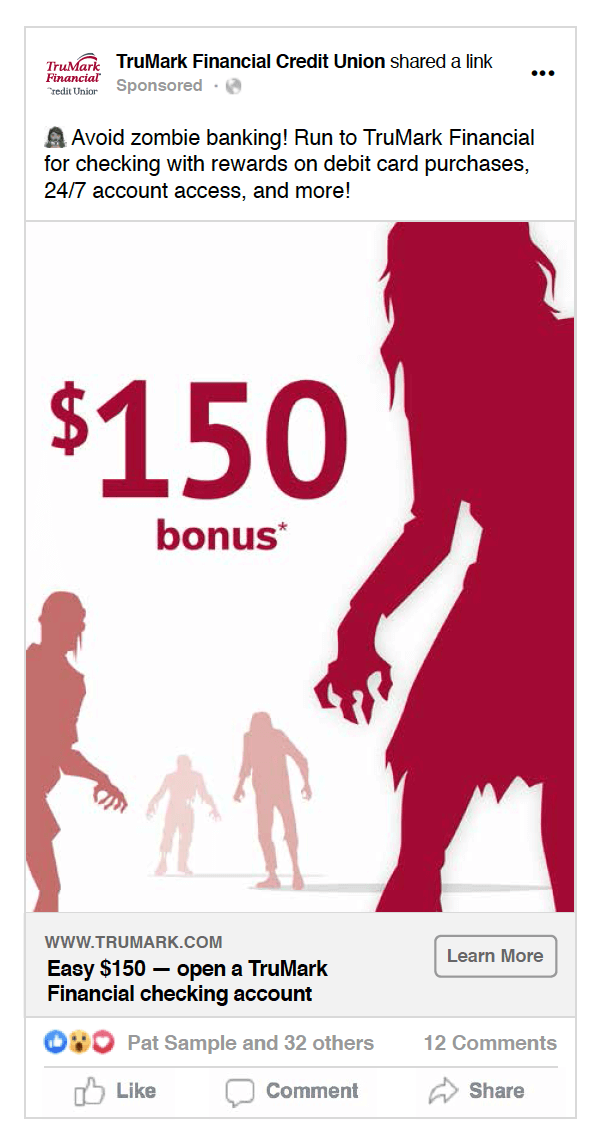 Why did the 20% text rule even originate? To make for a better UX.
Facebook was in its infancy and the original purpose for the rule was to improve the user experience — to cut down on the clutter in the News Feed.
These days, Facebook is so image driven and dynamic, with ever-new ad formats rolling out, text is far less of a threat to the quality of the platform's UX. Which is great news for marketers who make digital an integral part of their media mix, e.g., driving ad leads to landing pages and microsites.
From now on, clients can get their money's worth out of every Facebook ad, meaning their marketing message takes precedence. And, agencies can focus on crafting the creative instead of burning billable hours trying to adhere to a draconian rule.
But hey, let's not go too crazy, out of the gate, with this news. Rachel Silva, DMW's VP of Strategy & Innovation, reminds us, "While this allows greater flexibility, it's always best to stick to established best practices and slowly test the right amount of text for your brand."
Even with Facebook's 20% Text Rule, DMW has been able to create lead-generating campaigns for our clients. Imagine what we can do now that the gloves are off!
What's the next chapter for Facebook?
At DMW, we believe Facebook and all its online platforms — like Instagram — will continue to be a force in the social media world, and an integral part of any multi-channel media mix. Our clients have seen great success over the years with brand awareness, lead generation, conversions, and cost per lead.
Need expert help planning, creating, and managing your next digital campaign? Contact DMW today for a no-obligation consultation.