As direct marketing continues to evolve from traditional print and direct mail (DM) to more and more digital channels, marketers are faced with the critical question of how to most effectively reach their target audiences.
Marketing messages are everywhere we read, watch, search, or stream — we're inundated with messaging wherever we look. How can you make sure your message is seen by the audiences you need to reach? Keep reading to uncover the answers …
In this digital world, guess what's clicking with consumers? Direct Mail.
While newer digital and social marketing channels are getting a lot of attention, direct mail is more effective than ever in your total media mix. Although mail can easily be overlooked these days, it's a proven, cost-effective tactic to reach your target audiences. Did you know recent stats show direct mail response rates are better than other channels and continue to improve each year?
In 2018, direct mail pulled in an average response rate of 4.9% for prospect lists, up from 2.9% in 2017.* Even more impressive is that response rates for DM were higher than many popular digital channels, ranging from five to nine times greater than email, paid search, or social media.* The numbers don't lie — direct mail delivers!
But, taking advantage of direct mail is more than creating and dropping mail. For starters, you have to craft messaging that stands out to target audiences, and drives leads and sales. There are many tried and true techniques that help make a DM winner! Here are 5 effective tips for success: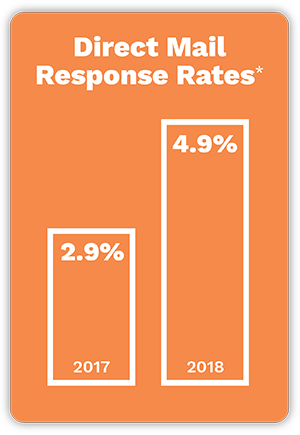 Tip #1 – Use the right data to selectively reach your audience and slash waste
The ability to target a specific, defined audience is one of direct mail's superpowers. Skilled, accurate use of data will correctly identify your target, and eliminate waste so you won't pay to reach unqualified prospects. You'll reach a high-density population, likely to purchase your specific product or service.
Selecting from hundreds of characteristics, uniquely among all media, mail enables you to target your ideal consumer with accuracy down to the individual level. Broad strokes will let you filter by age, income, geography, gender, marital status, and occupation. Then you can dive deeper with literally scores of factors including hobbies and interests, purchase history, and many more.
The more refined your data, the more personalized your DM can be, and the easier it will be to segment messaging and/or offers to speak to a consumer's specific wants and needs. Your goal, of course, being to encourage your targets to be receptive and buy what you're selling, as well as welcoming continued communication.
Tip #2 – Creative is key to getting, and keeping, your audience's attention
The first key to making your message stand out in direct mail is to cut through the mailbox clutter. We've all heard it … make your message "compelling." How do you do that? Most critical: Make it plain to consumers "What's In It For Me" (WIIFM). Give them the advantage. The solution. The end benefit.
With that key messaging in hand, pick photography and graphics that resonate and cause a reaction. Be bold, with colors and design that capture attention and say "Open me!"
Creative, strategic direct mail can open doors and form connections with your audience. You do that with connections built on content that rewards the reader. Copy should satisfy the appetites of every consumer — from the skimmers to the detail lovers. Have a mix of paragraph body copy, along with key benefit bullets sprinkled throughout. That way, the reader can consume the content how they prefer.
Direct mail is often at its best as a team player — part of an integrated, multi-channel media campaign.
And don't forget the importance of your Call To Action (CTA).
What do you want the reader to do?
What steps should they take?
How do they learn more about your product or service?
Make sure your CTA is compelling and provides clear direction. "Call Today" is a starting point for an effective CTA. Your prospect assumes you'd like them to do that … but why do they want to call? Restating a benefit, or WIIFM (What's-In-It-For-Me), gives motivation to act. Then repeat it multiple times throughout your DM piece — sidebars are a great place to complement the main message with a CTA. Whether you're driving to a phone number, website or a reply device like a Business Reply Card (BRC), make sure the reader knows exactly what action to take – and how the action will benefit them!
Tip #3 – Connect through personalization … beyond using their name
To succeed, any marketing campaign must resonate with consumers. By including a personal touch in direct mail, you can better connect with your target audience. Today, personalization goes beyond using a person's first name.
With the right data, you can personalize everything from the offer to the imagery, as well as the appeals and benefits you choose to highlight to a specific individual. A young family, retired person, self-employed individual, or newly married person may all be looking for different things. Which means you can produce direct mail that addresses an individual's specific needs — strengthening the relationship, improving the brand experience, and making consumers feel valued. All of which can help raise response rates, leads, and conversions.
At DMW, we've executed personalization tactics in very elaborate and sophisticated ways. Other times, it can be rather simple, while still helping boost results. Probe and challenge your team to find ways to make personalization work for you. It can be tailored to each campaign, audience, and budget.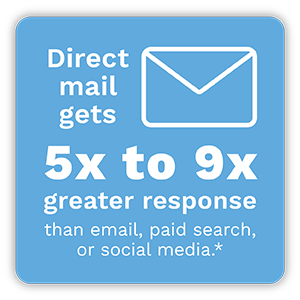 Tip #4 – Engage through multi-channel tactics — don't let your mail be "lonely"
Direct mail is often at its best as a team player — part of an integrated, multi-channel media campaign. The key to boosting response is engaging consumers everywhere they consume content, both online and offline.
Align your DM creative with digital ads like Google Display, where you get more bang for your buck, ads on social platforms such as Facebook, Instagram, and Snapchat, and your email stream (one of the first digital marketing tools and still one of the most effective). By using consistent design, imagery, and messaging, you create marketing synergy that keeps the consumer headed in the right direction — to buy your product or service — regardless of channel.
Then, once everything is looking complementary, get your varied efforts acting in concert. Integrate your direct mail as part of multi-pronged communications. Time your direct mail with email touches. Direct prospects to landing pages to capture lead information. Time digital retargeting campaigns with non-converted lead mailings. By going multi-channel, you expand your campaign reach, create a stronger brand impression, and move your prospects, customers, and members along their sales/cross-sell/upsell journeys.
Tip #5 – Measure campaign results and test!
Your first step in measuring results happens before your direct mail drops, even before you start developing creative: Start by establishing specific, concrete campaign goals. Are you looking to boost leads? Increase sales? Raise awareness? Your answers will help you establish meaningful Key Performance Indicators — KPIs — to help you evaluate your campaign performance, i.e., reaching goals, etc. Essential KPIs for direct mail include Response Rate, Conversion Rate, and Cost Per Acquisition (CPA).
Proper tracking is the next critical element helping you see how your campaign performs against those KPIs. In the case of direct mail, proven tracking tools include unique phone numbers and URLs, as well as the tried-and-true reply card — believe it or not, many people prefer this response mechanism above all! Be sure to check that all phone numbers and URLs are working prior to your campaign launch. This ensures proper tracking is in place so you can successfully capture the lead data and measure campaign results against your established KPIs.
Essential KPIs for direct mail include Response Rate, Conversion Rate, and Cost Per Acquisition (CPA).
When you start developing any direct mail campaign, it is critical to incorporate testing. Ah, but what kind of testing? Mailing lists, targeting, creative, timing, content — there are countless parameters you can test. Prioritize based on where the most impact is likely for your audience, offer, and list. The findings will help you strengthen your brand and marketing … to refine and optimize campaign performance, identify new market segments, customize messages and offers. The opportunities are endless!
Direct mail ups your "selling" power.
Every business is different. So is every consumer. Direct mail gives you the power to address a full 360 degrees of marketing concerns — from building brand awareness to targeting segments, to driving leads and sales! And, in this digital-focused world, don't forget that direct mail working hand-in-hand with online tactics is a great way to add a 1-2 punch to your marketing mix.
Looking to add direct mail to your marketing mix? Contact DMW today. Or visit our Services page to learn more about how we go beyond consumer engagement to influence purchase and create ROI.
*Source: ANA/DMA Response Rate Report 2018