As I reflect on 2019 and think of the upcoming 2020, I can't help but think about all of the industries that will be impacted by the elections. Remember the 2016 elections? We saw unprecedented media spending by the various political parties, candidates and PAC organizations — especially in swing states!
In fact, in 2016, $6.5 billion was spent on the presidential and congressional elections alone and share of advertiser ad time dropped from 77% to 51% in the final 3 weeks of the election.* In 2019, we saw $74.2 million spent just on state, local, and ballot question elections** and for the US presidential race, media spend was $39.8 million through May 24 — that's not even halfway through the year BEFORE the 2020 elections.†
In addition to a crowded media space, we saw digital properties used more than ever, a confusing social media environment, and consumers distracted either by all of the "noise" or just choosing to tune out.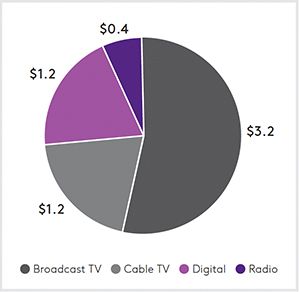 If you thought the 2016 advertising space was challenging, we can only dread the upcoming 2020 election. However, I'm going to choose positive thinking and proactive planning to solidify DMW clients' 2020 business objectives and goals. And, of course, direct marketing best practices …
During the 2016 elections, DMW used a number of best practices, including:
Clear Strategy: Outline the objective of every tactic used and define the KPIs up front. This will allow you to make better data-driven choices and set expectations across your organization.

Early planning: The more you can book ahead of time, the better chance of securing inventory

Contingency planning: Set aside approximately 5% of your budget for ad hoc efforts that you didn't see coming

Tracking: Have extra 800s and URLs in reserve in case the need arises to adjust your media plan

Direct Response TV: Plan and schedule early and in critical times overbuy media in order to avoid any clearance issues

Direct Mail: Pay close attention to when you mail and think about investing in First Class. Political mail is treated like First-Class Mail and is processed before Standard Mail.

Paid Search: Maximize your brand terms and Medicare terms. Even if there is competitive bidding, your quality score will be higher and cost per click lower than competitors

Facebook: Do specific targeting and increased monitoring for a larger competitive pool and higher CPCs and CPLs.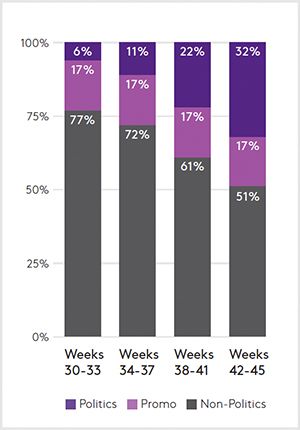 But best practices alone aren't enough. Election years are anomalies, and 2020 is shaping up to be a doozy! So I've put together a 6-point checklist to keep top of mind as you're planning out the year.
2020 Election Planning — 6-Point Checklist:
Timing: Is your budget flighted out for the "typical" year that overlaps with the height of election spending? Can you front load or back load the spending and interest to gain traction at more cost-effective time frames?

Creative: Go bigger and louder than normal — do the unexpected yet stay relevant. While there will be the need to capture the consumers' attention, ensure that you're doing it thoughtfully in a way that's appropriate for the audience. Are you able to facilitate any research or segmentation early in the year to better understand what's important to the consumer and what they may react to in a positive manner?

Testing: This is the time to utilize as many complimentary marketing channels as possible and test early in the year. We do, however, have a number of industries/clients such as Medicare, that are tied to only marketing during specific time frames of the year known as Annual Enrollment Periods (AEP). For these types of clients, testing something new and diverting funds during a narrow time frame can be nerve-racking due to lack of previous proven successes. For these clients we would urge testing during the New to Medicare/Special Enrollment Periods throughout the year to gain early wins and key learnings.

Hyper-Targeting: The majority of our clients are regionally based and require an additional layer of expertise with their media buying and creative executions. We recognize the importance of personalizing as much as possible through addressable media across multiple channels (direct mail, digital, TV, email, etc.) as well as then layering on a hyper-local aspect. We have seen that leveraging multiple media channels results in higher response rates. However, this can be an expensive proposition if not executed on a personal and localized level.

Distraction-Free Zone: How can you create an environment that provides your consumers/members/prospects a positive environment to think and make decisions? In some industries, like health insurance or financial services, these decisions are extremely important and can impact your physical and financial health — how can you enable your consumers to make the right and easy choices?

Be Flexible: What has worked in past "normal" years, may not work or be the right approach for 2020. As I've started and finished writing this article, flexibility seems to be becoming more of a theme. We have all just survived the impacts of the impeachment hearings in the House and will now go into the televised Senate trial, which will be followed by an increase in election advertising.
The key question: How do we plan for what is most likely going to be the craziest election cycle of our time (so far)?
Cheers to a successful new year!
2020 will be a year to remember with a lot of room for innovation, successes, and key learnings. At DMW, we're very excited to start the year off with a number of new direct response campaigns, including OEP and New to Medicare, and continuing to drive awareness, leads, and sales for all our clients.
If you're looking for more marketing success in 2020, look to DMW. We'll be happy to provide a no-obligation consultation … Happy New Year!
*Source: Kantar, "Political Advertising Trends: What To Expect In 2020."
**Source: Advertising Analytics
†Source: Pathmatics and Kantar