Differentiation, Segmentation, Integration & Retention
Today's Medicare Advantage (MA) market has become increasingly commoditized. Products are difficult to differentiate. Comparing promises made by various plans exposes a "Sea of Sameness:" good service, great benefits, etc.
Fueled by this same-same reality, the number of MA plans nationwide is increasing! In 2019, in fact, more MA plans were available than in any year since 2009.* A new plan in the market needs even more of an edge to compete against entrenched incumbents. So, how do you assure success when launching a new Medicare plan? Start by planning for and implementing these 4 Key Insights …
1. Differentiation that makes your new Medicare plan stand out
In such a crowded marketplace, the need for meaningful differentiation is clear. To identify areas to set your plan apart, examine your product, services, look, and messaging — and then craft a compelling combination of them, i.e., your brand proposition. Even if your brand is already well-respected, a name alone is not a sufficiently powerful differentiator. It takes more.
Closely tied to product is services. Consider these to be the extras you bring to the table — the extra something no one else offers up or provides in the same way you can. Sometimes this element already exists, but is not optimally positioned. Sometimes it must be created. As a new plan, now is the ideal time to create those services that will help your brand stand out.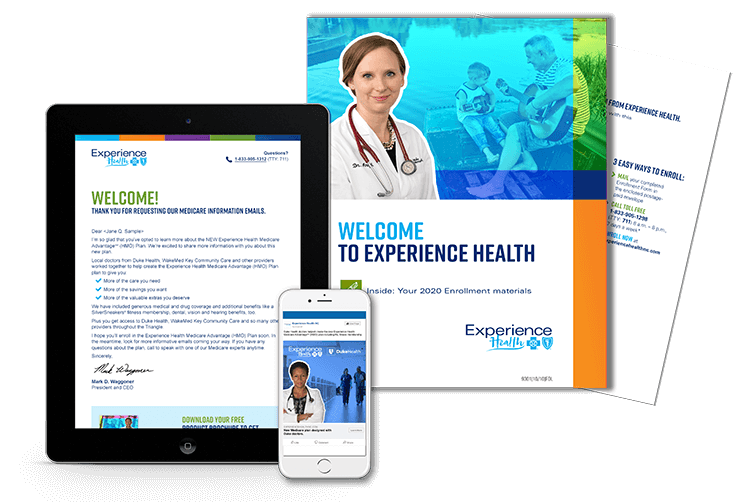 One example of differentiating a plan launch in a crowded market: DMW positioned this new Medicare brand as the plan backed by doctors from one of the nation's most prestigious health care systems.
Once you've finalized product and services, our analysis has shown that how you serve them up to the public both visually and verbally makes a real difference — it's a key part of differentiation. During the Medicare Annual Election Period (AEP), consumers receive a stack of direct mail every day! That's in addition to viewing commercial after commercial on TV and OTT, and seeing numerous digital ads. The way you present the message is often the difference between being noticed and remembered. Or not.
2. Segmentation to speak — and sell — to the right target audiences
The notion that segmentation is essential to achieving optimum results is well known. The discipline and process behind crafting persuasive messaging to specific Medicare audiences is less common. After working with Medicare plans since the early 1990s, and launching over 30 new Medicare plans nationwide, DMW can spot the obvious when Medicare marketing is done by a team new to the category — and the audience.
A successful process starts by identifying the best segmentation approach(es) for your specific market challenges and opportunities. These approaches can include: recognizing opportunities in population diversification; competitive set by county; psychographics and demographics; and predictive modeling.
DMW looks at segmentation in multiple ways:
In general, one cut at segmentation is based on significant variables directly attributable to individuals. For example: marital status (presence of children and age).
A second slice is based on messaging that speaks to unique groups (albeit not identifiable). For example: the self-directed individual vs. an individual who prefers guidance.
For Medicare in particular, we also look at proximity to a plan's provider network, plan offerings by county, and whether we are likely to be persuading an individual to switch from another MA plan, Original Medicare or a Medicare Supplement … as the sales points will vary significantly.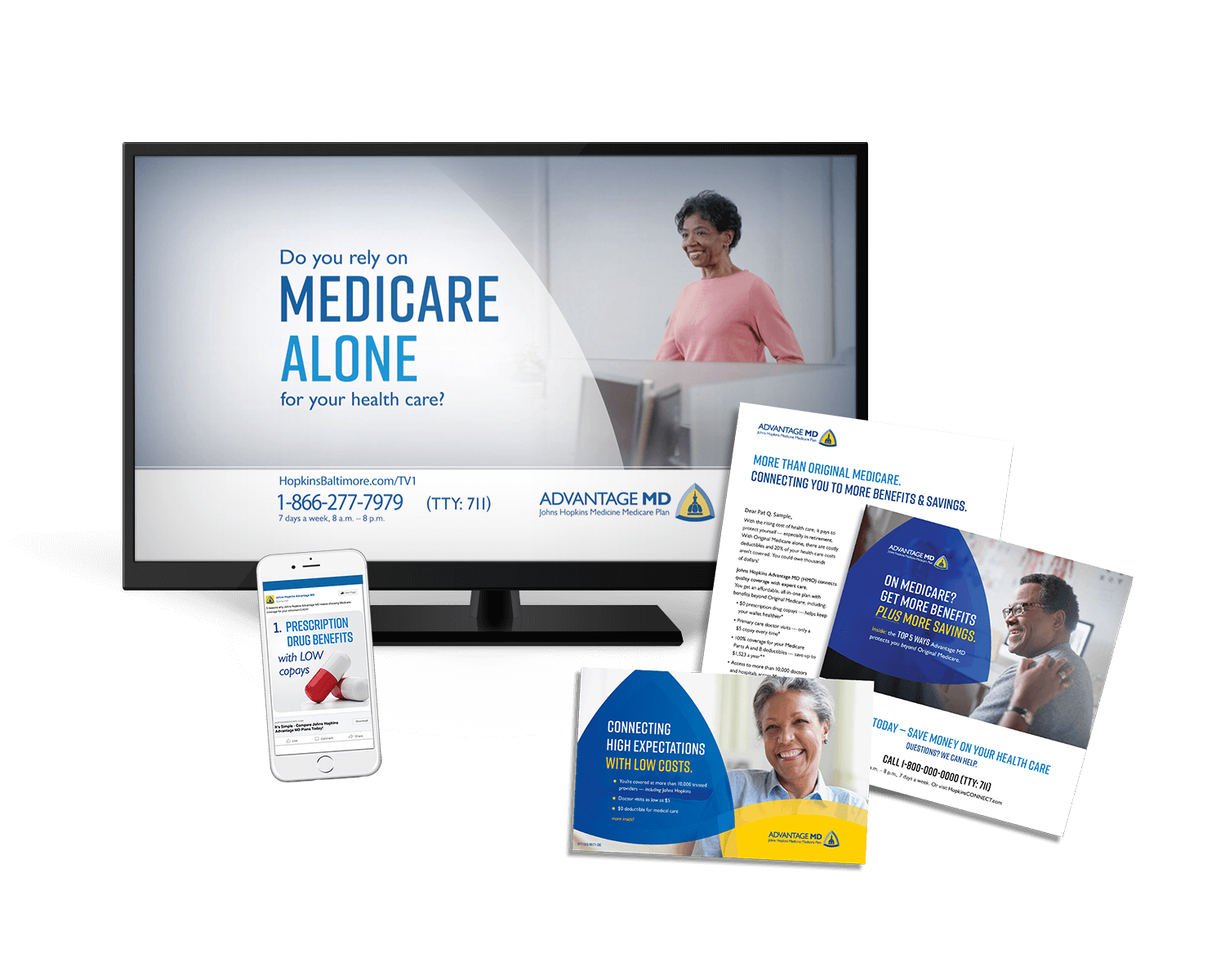 DMW launched the Johns Hopkins Advantage MD brand with a segmentation strategy targeting likely Original Medicare, Medicare Supplement, and MA HMO and PPO prospects based on various data points.
It is critical to identify and target competitors' relevant weaknesses. The majority of new members you gain in your first and second year must be "stolen" from other MA plans. There are only so many New-to-Medicare individuals. Only so many who will be converted from Original Medicare only and Medicare Supplement plans. How do you win them over?
Working with a launch plan, our team starts by honing in on the weaknesses of existing plans in the market. How do you uncover their "faults"? We delve into competitors' product offerings and their provider networks, and look closely at their CMS star ratings for shortcomings. Careful investigation of these factors, informed by seeing what factors move the needle with various consumer segments will enable you, via deep personalization, to bring your plan's strengths to the forefront, county by county, versus competitors' messaging.
During the AEP, one of DMW's key strategies is to identify and target switchers who will be moving from other MA plans. There will also be a significant number of people who are presently enrolled in a Medicare Supplement plan or relying on just Original Medicare. If your new plan is attractive to one of these audiences, we recommend you identify individuals within that segment and develop meaningful and persuasive messaging to win them over.
3. Integration for 360˚ communications — "Surround Sound" that drives leads
Your Medicare prospects are surrounded by marketing communications in all forms of media with more pervasive messaging than ever before. You want to be everywhere they're looking — DMW calls this "Surround Sound." All our successful AEP campaigns include a full mix across media channels, including:
Direct Mail
DRTV
Digital
Print
OOH — Provider Offices
We also promote new Medicare plans through provider office tactics, such as take ones, banners, and closed-circuit TV spots. In addition, we encourage our clients to build strong provider relationships by dedicating staff and time to meet one-on-one.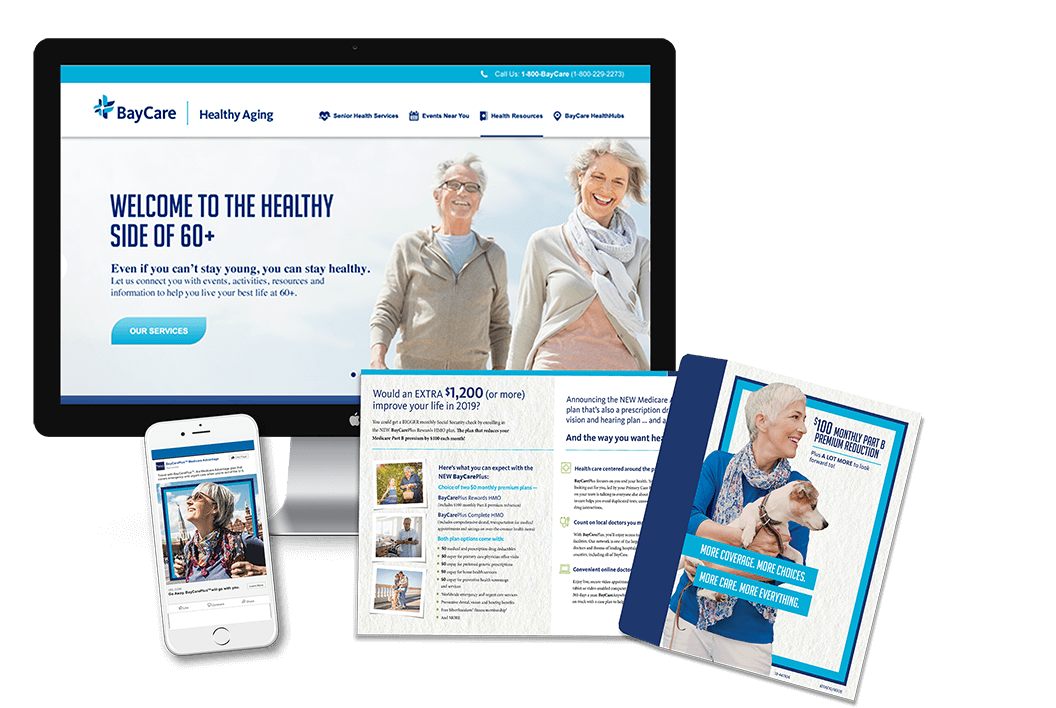 BayCare, a well-known health care system in Florida, recently launched a new Medicare plan. DMW generated new members with a multi-channel direct response campaign that integrated seamlessly with BayCare's established brand campaign.
While the Boomer population does still engage readily with direct mail, they also lean heavily on the internet to search for information, and are very active Facebook users.
It is critically important that your direct response campaign must project a single vision across all channels. Communicate a clear proposition distinct from your competitors, or the consumer may be driven right into their arms!
4. Retention: because a member saved is a member earned
It may seem odd to talk about retention even prior to the launch of your plan. But, we can't stress enough how important it is to include strategies for onboarding new members to be sure you retain them. Your launch goals no doubt encompass a member goal that's 2, 3, even 5 years out. To hit those numbers, you need to hold onto newly acquired members through their first Open Enrollment Period (OEP), as well as subsequent AEPs. There will be plenty of competitors in your market waiting to snap up any unhappy members in the next AEP (you'll be hoping to do the exact same thing).
Plus, your launch year is the first year that CMS begins looking at your plan in anticipation of awarding a star rating, effective in Year 3. Happy members from the start equal good scores, which equals good star ratings — and equals more money for your plan!
"First impressions are the most lasting." Onboarding is the first step in retention. At this point, educating members about your plan benefits and how to use them is key to avoiding future problems. Industry-wide figures show "not understanding benefits" is a prime reason for new member attrition. Our experience shows that providing information in all forms — printed materials, online assets, as well as by phone and email — allows members to get informed the way they're most comfortable with. Providing a clear understanding of benefits has an appreciable impact on member satisfaction. Which concretely impacts their likelihood to stay.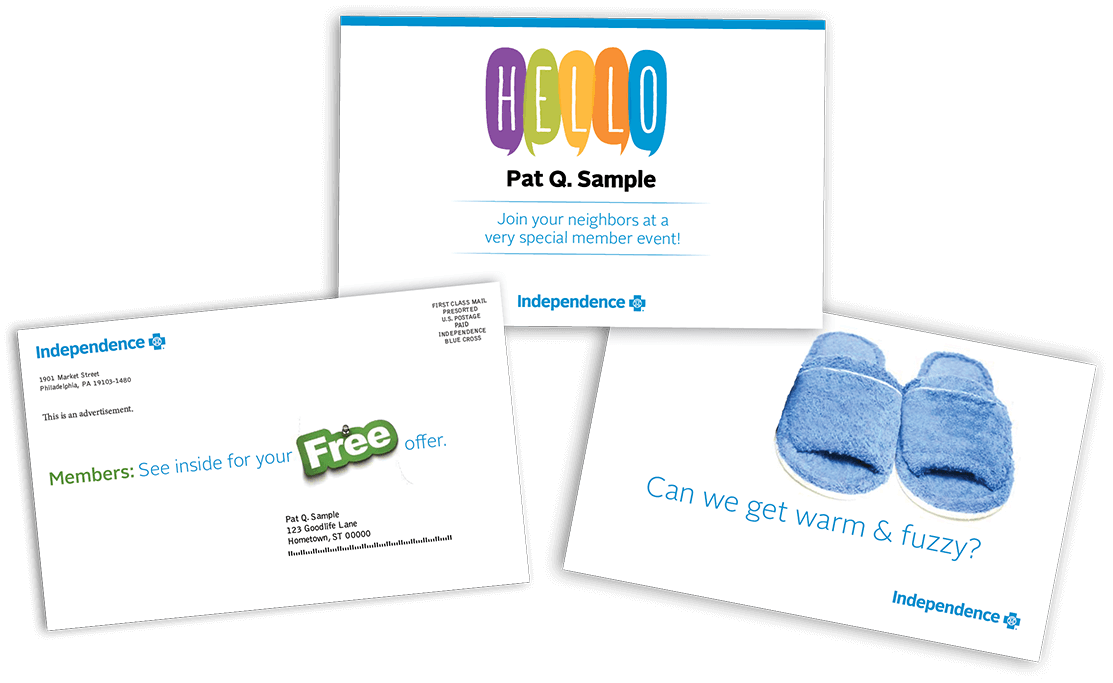 Member retention can be as simple as a direct mailer to encourage use of plan benefits and services. That's one way DMW has helped Independence Blue Cross stay the #1 Medicare plan provider in Southeast PA.
Once new members are past the initial onboarding stage, don't wait until the following AEP to communicate with them again. Some smart strategies DMW executes for our Medicare clients include:
Sending out economical postcards or self-mailers that highlight a benefit they could be using, or remind them to engage by scheduling an annual physical or getting a flu shot.
Creating a member email stream with health and wellness tips or benefit reminders — to keep members in touch and build reasons, and motivation, to renew.
Together, all of these communications go a long way to fostering a favorable impression of your new plan.
Wondering how it all comes together in practice?
Get DMW's complete Medicare Plan Launch White Paper. Or if you're ready to talk with a marketing expert, we've helped launch over 30 Medicare plans nationwide. Call or email us today!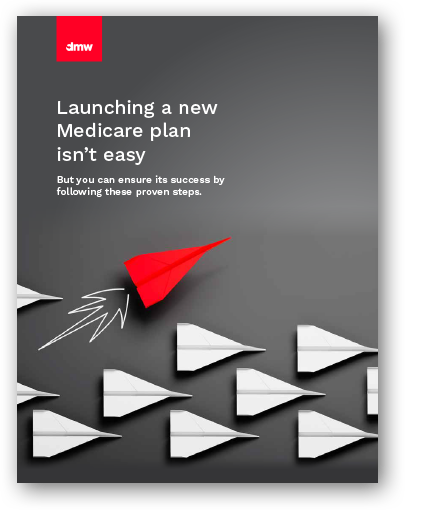 *Source: Kaiser Family Foundation.