Try to scroll through Instagram, Facebook, LinkedIn or click through any website at all without getting served some sort of ad. Nearly impossible.
Did you know that global advertising spend is estimated to reach $389 billion in 2021? It's true, and not surprising considering how quickly digital ads can be developed and personalized for your target audience.
But what makes a digital ad a winner?
While many ads focus on just the top of the sales funnel (okay if you're satisfied with "Likes") if you want to see a winning ROI, you'll want to deploy real direct response techniques like those shared below.
Global advertising spend is estimated to reach $389 billion in 2021.
And by "winner" we're talking leads and conversions. Not just impressions. Afterall, we're going for sales here, not just brand awareness. There are lots of factors …
First, you have to follow the rules. If it's in a social channel like Facebook or Google's Ad Network, there are specific parameters to follow — and they're more than just guidelines. Your ad can't just look and sound great, it has to adhere to each channel's rules (which are ever-changing), to ensure your ad runs at all.
But even following the character counts, image requirements, and content restrictions, won't make for a winning ad. There are certain things that should always apply — elements that work hand in hand to make a successful ad. And by that we mean clicks, leads, and conversions.
What makes a digital ad a winner? Clicks, leads, and conversions.
Here are the top 3 things to always keep in mind:
1. Copy — put the important messaging first!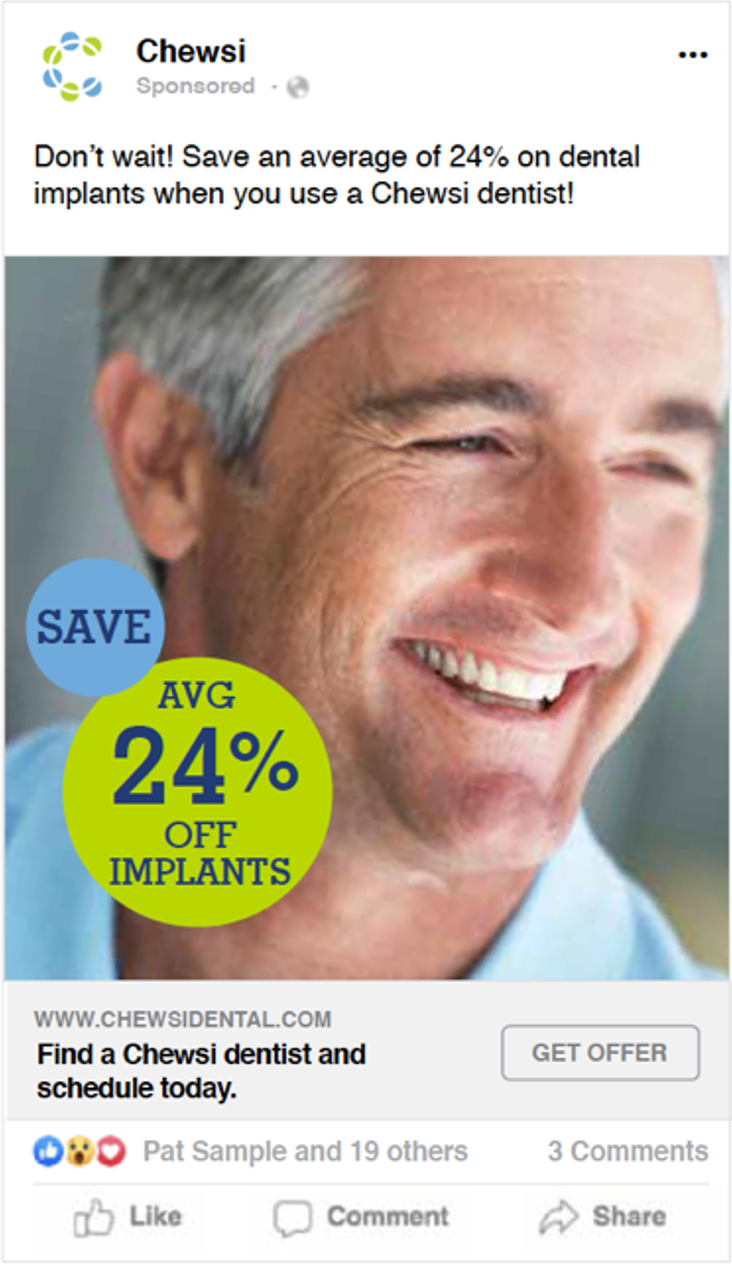 It doesn't matter if you're developing a Facebook Ad or a Google Display Network (GDN) ad, make sure your main message is clear and easy to read. Don't let the main benefits, calls to action, or savings language get buried at the end of your copy.
Here is a top-performing ad for Chewsi, a dental savings app …
Straight Talk. Facebook ads truncate primary text or copy at 125 characters. So you want to keep it simple. Otherwise, targets will see the words "See More…" and be required to click to finish reading your message.
Keep in mind, however, there is evidence that longer copy also has its fan base — believe it or not, some people do like to read. We suggest you test longer copy against a shorter copy version.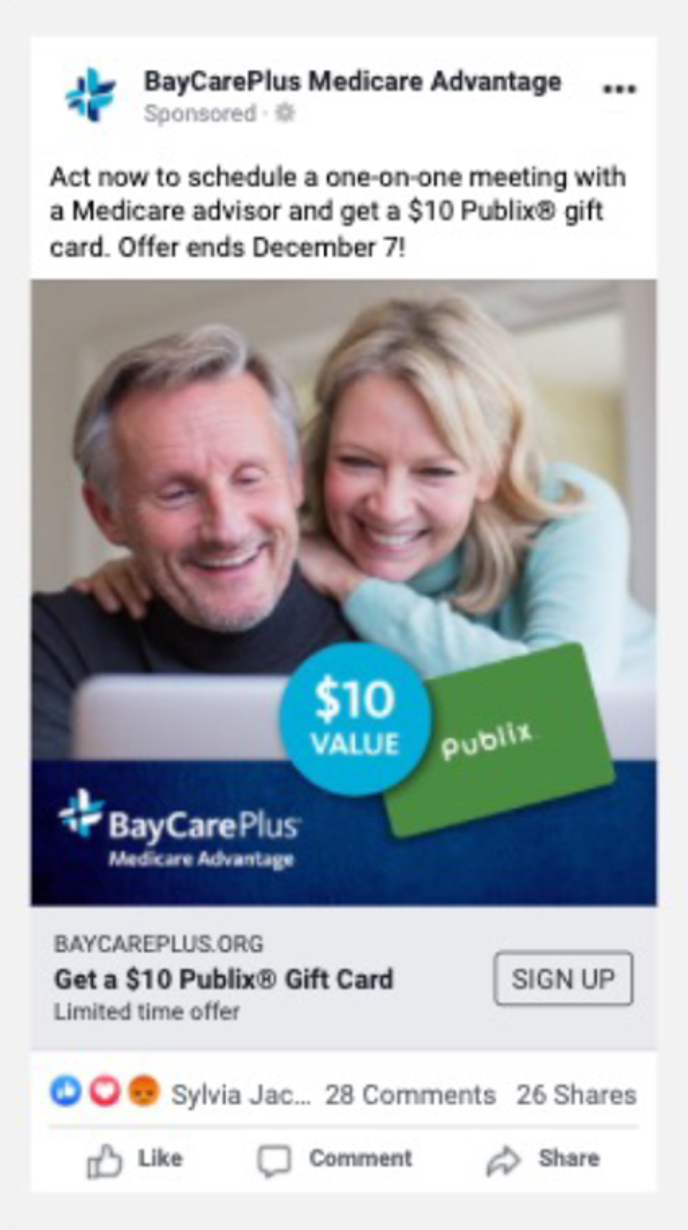 Also important: put your offer or benefit right up front, with a compelling message crafted to prod the reader to act. Notice how the 24% offer is prominent in the first few words of the copy — and frontload your benefits so they can't be missed! Keep this in mind, even when your copy is longer, and you have more to say.
Here's another example of winning digital in this BayCare promo ad …
At 120 characters, the primary text is a little longer. But it's still short enough that it won't truncate. This ad works for three reasons: First, a call to action (CTA) right up front in copy with "Act now" alerts readers there's something to do right away, and read further. Secondly, the CTA is tied to a gift card offer so the reader is motivated to respond. And third, there's an offer end-date to urge users to click now!
1. Images — eye candy and compelling typically win.
When you're scrolling through Facebook or your phone, what catches your eye? And which ads actually grab you? Likely not long sentences and captions. Images are probably the "winners" that capture your attention right off the bat. Images express the theme of the ad, help deliver important offers, and they can be married with branding elements like logos and color palettes.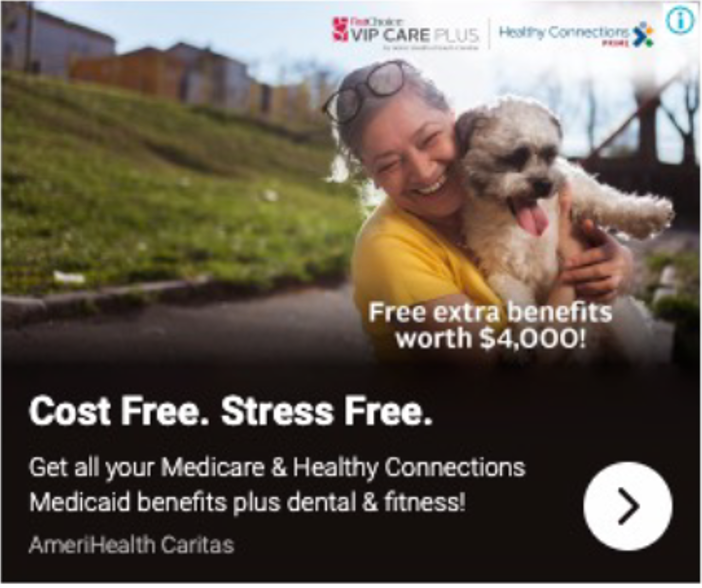 Attention Grabbing.
These top-performing GDN ads depend heavily on their images. They're individually unique, but they both do a great deal to capture attention. Visually, graphic images break up the usual stock photography and cause users to pause and pay attention.
Though Facebook did away with their old 20% text rule, it still applies to Google responsive ads, so use caution when adding text to images.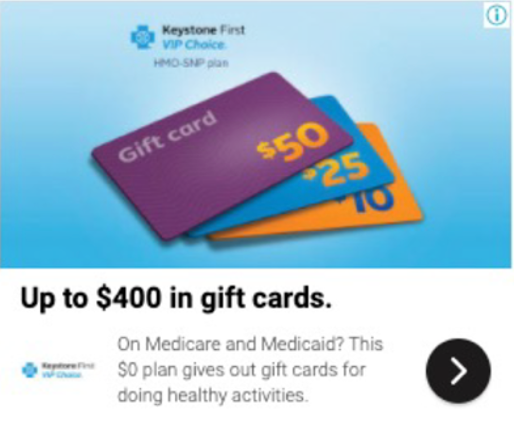 Balancing "happy" with some "heavy lifting" can generate smiles from your client when they see the results. But here you can see how a very small image can include multiple elements to build a winning ad.
Now, let's revisit the BayCarePlus Facebook ad discussed earlier in this post. It's shown at right below …
The gift card offer is at the forefront along with happy seniors taking action to obtain it. And the product logo is reversed out. The key takeaway: clearly aligning your image with your messaging is recommended for a strong digital ad.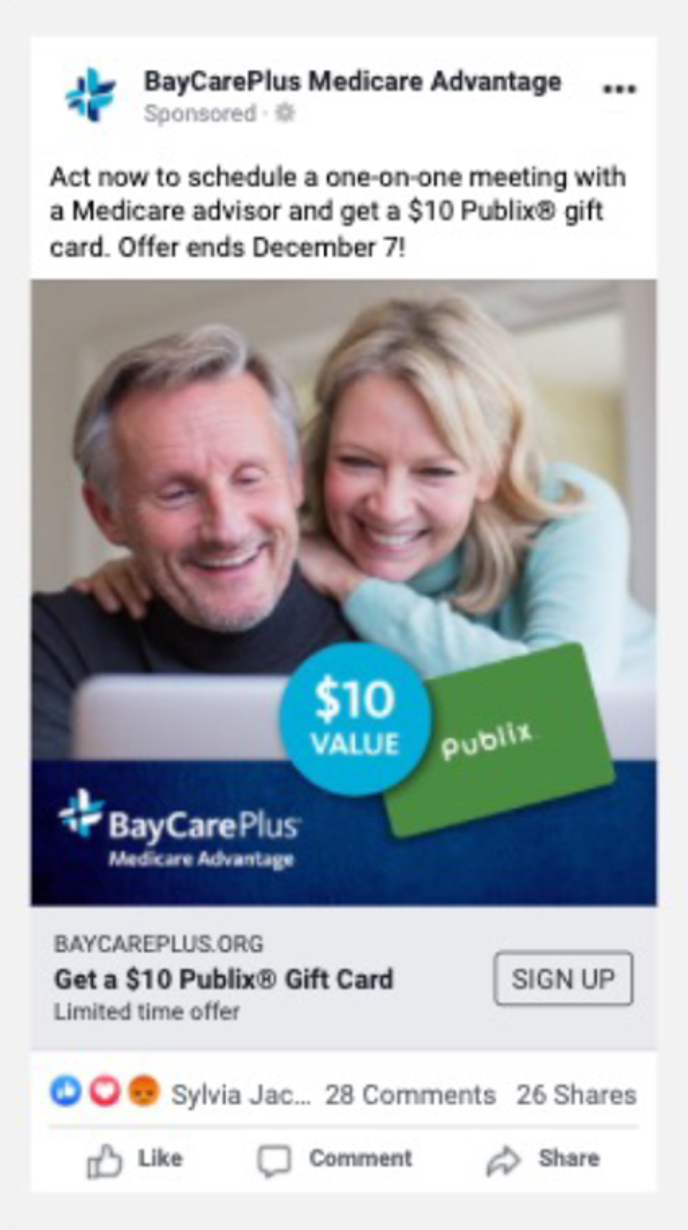 1. Call to Action — don't be shy, tell your target audience what to do.
Thankfully, for direct response, digital allows the CTA to be a versatile element. You can modify CTAs to lead users to a landing page to download an asset (and capture leads), or simply reinforce your primary text with features and benefits and push "What's In It For Me."
Short & Sweet.
Facebook currently recommends 40-character headlines, with a maximum of 50 characters. And, most ad headlines are brand messages versus CTAs that motivate readers to click through. For example, "Get A $0 Premium Health Plan Loaded With Benefits" is a CTA that can fit neatly into the FB maximum headline space of 50 characters.
For traditional digital display ads (not within the Google Display Network or GDN), there is no character limit. But you want your ad message to come through loud and clear, so brevity is the name of the game in copy, and your image should be attention-getting.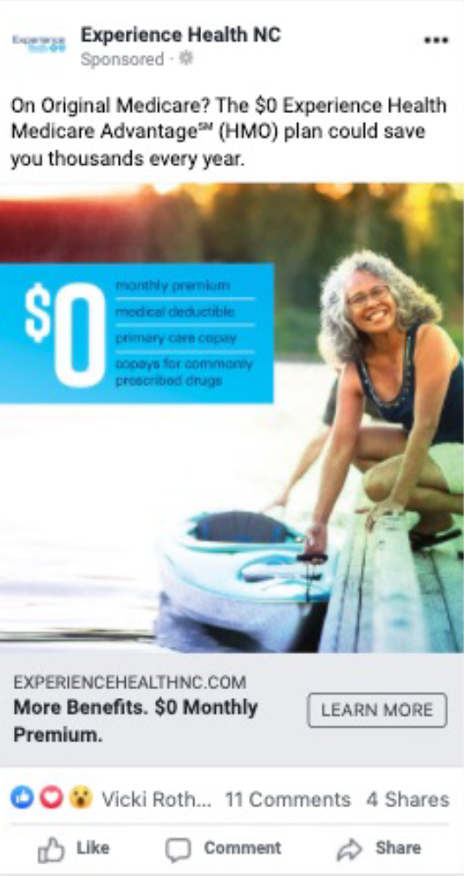 The theme of the first ad shown at right is all about a $0 health plan premium and its benefits, so the CTA follows the primary text and image text to include that messaging.
Below that, the retargeting ad headline and visual work hand in hand to drive home the message, with a straightforward CTA telling the reader to call for the savings offer.
For both of these ads, "Learn More" applies for your CTA button. Note: Facebook has up to 15 options to tailor your messaging. So for instance, perhaps "Sign Up" works better for your product/service since that provides a benefit to the consumer, i.e., getting what they want!
GDN has many more variables. CTA language often needs to be included in different parts of copy that make up a GDN ad (e.g., short and long headlines, and descriptions). Google's machine learning functions by automatically pulling copy elements — and alternate images — into an ad to serve up an option to the reader.
If the ad performs well, that may be the best possible option, and Google will continue to run that particular ad and leave the other options alone. That's why it's important to write CTA options into your ad.
Take this top-performing Experience Health ad as an example …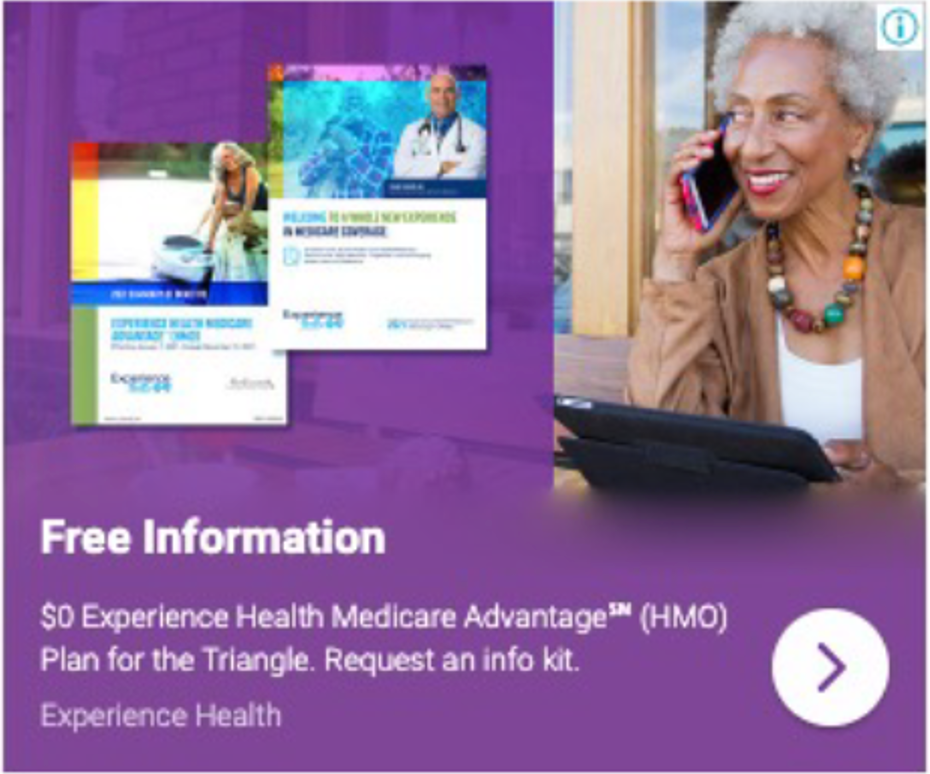 The short headline is just "Free Information", and the copy is also simple — it promotes the $0 health plan and ends with "Request an info kit." That CTA is written into the description here to ensure users know what the free information is about.
There's no CTA button, which is another reason why the CTA in messaging is so important.
Creating a winning digital ad isn't an exact science.
It's execution, testing, and machine learning all working together to make for a winning formula! Want help refining your digital ads within an integrated marketing campaign that Inspires Direct Results? Contact DMW today.