Looking for an easy way to lift direct mail response and lower postage costs? Informed Delivery® is your answer!
Informed Delivery: Get an integrated digital and direct mail campaign all in one!
Direct mail has always been an effective communications tool for marketers. But as online campaigns have grown in effectiveness and trackability, marketers have searched for a nexus between physical and digital media, increasing the impact of each.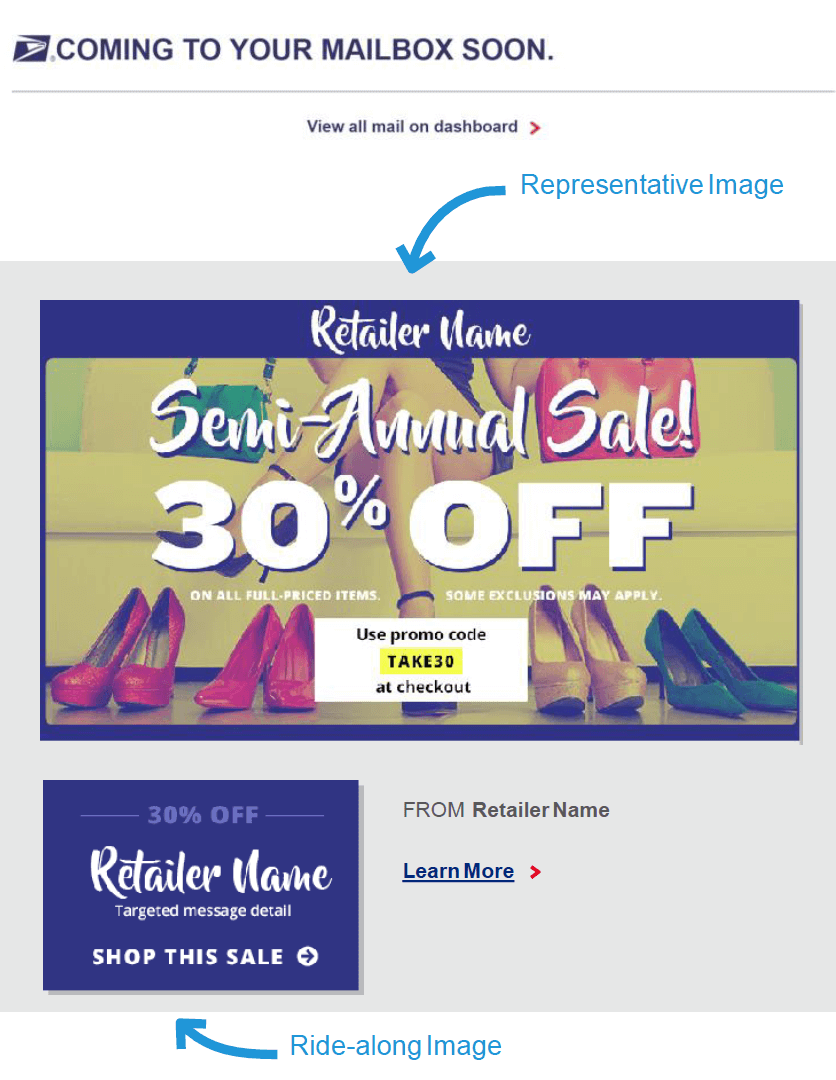 Thanks to Informed Delivery, marketers get more value for their direct mail dollars. For starters, you get lower postage costs from a rebate (more about that in a bit). Plus, your target audience gets a digital ad delivered right to their inbox — plus a sneak peek of your mailing coming into their home.
It's an easy way to boost your brand's awareness and instigate consumer engagement through an integrated offline and online marketing campaign that generates additional consumer interaction.
Surprise! There's a cost-saving opportunity, too. Run an Informed Delivery campaign during the USPS promotional period, August to December, and you'll enjoy a 4% rebate on postage spend.
So you could take those media savings and allocate it for even more consumer exposure. For example, put geofencing in your media mix.
If you haven't already tested it, geofencing uses GPS or radio frequency identification (RFID) to place a virtual fence around a location, be it a physical address or zip code, and then serving up advertising directly to consumers' devices — mobile, tablet or desktop — when they're in that specific area.
Geofencing is easy to implement and provides an added campaign layer for minimal cost — a win-win for marketers.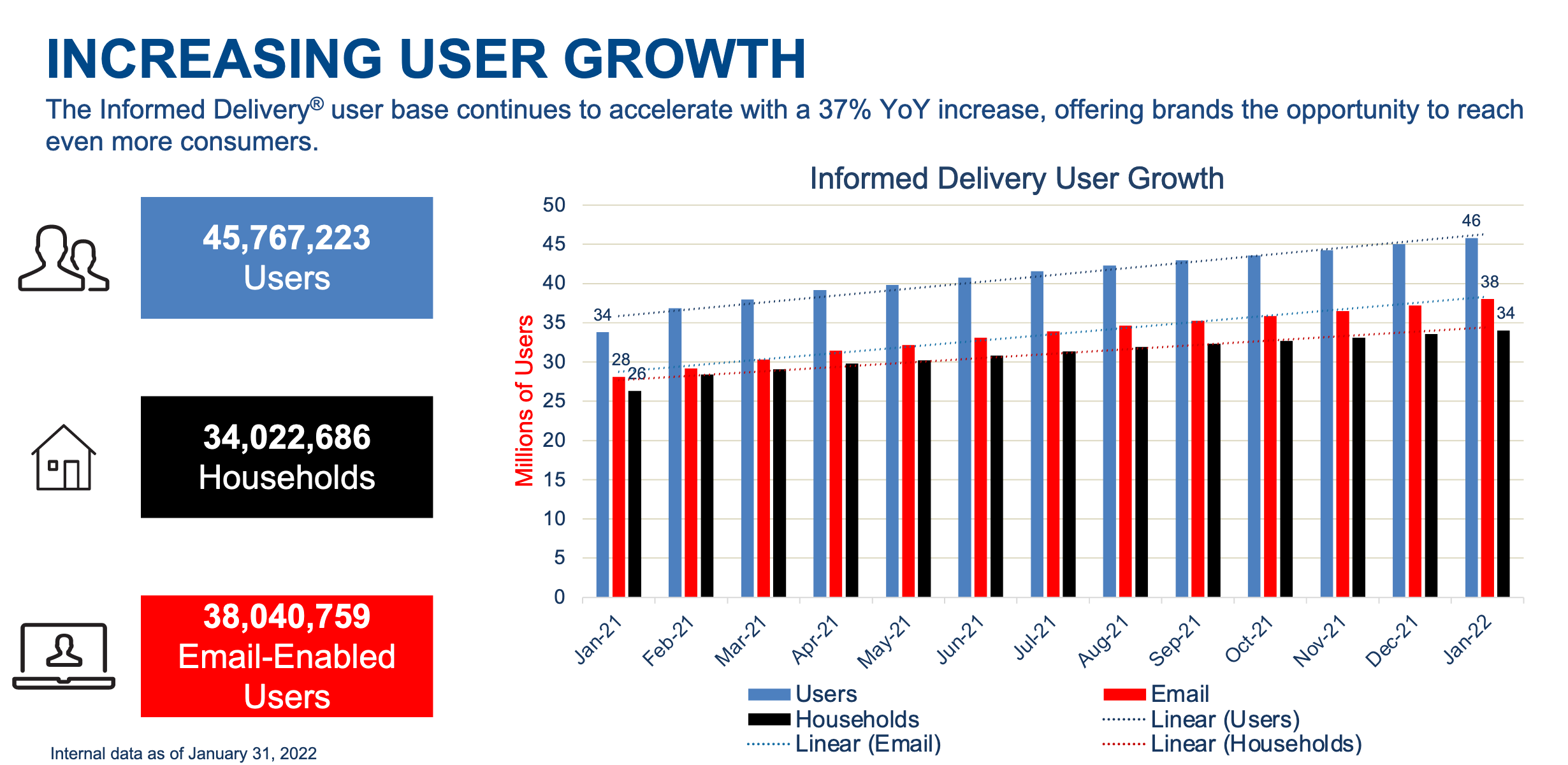 Informed Delivery has close to 46 million users, and a 37% growth rate (YoY). So it's an established way to expand your brand's awareness potential.*
Adding Informed Delivery to your mailing provides 3 touchpoints: postal mail + email + digital!
With Informed Delivery, you're instantly getting more than one creative tactic. You get 3 integrated campaign touchpoints — email, digital ride-along content, and the physical mail piece — all working together to give you the most bang from your marketing buck.
Even better, you don't have to do anything extra.
If you're working with a direct response agency like DMW, we'll develop all the campaign creative and manage all aspects of your Informed Delivery. And since our Production Managers leverage state-of-the-art software, we're able to provide important tracking statistics that tell you exactly how your campaign is performing.
DMW will provide you with valuable campaign tracking statics:
Mail Quantity — count mailed

Subscribers — count mailed registered for Informed Delivery

Emails Sent — count of those mailed who are set up to receive Informed Delivery via an email (consumers can opt to receive via Email, Dashboard, or Mobile App)

Emails Opened — count of those emails sent that were opened (registered users receive an email each day showing all expected mail)

Emails Clicked — count of clicks on the URL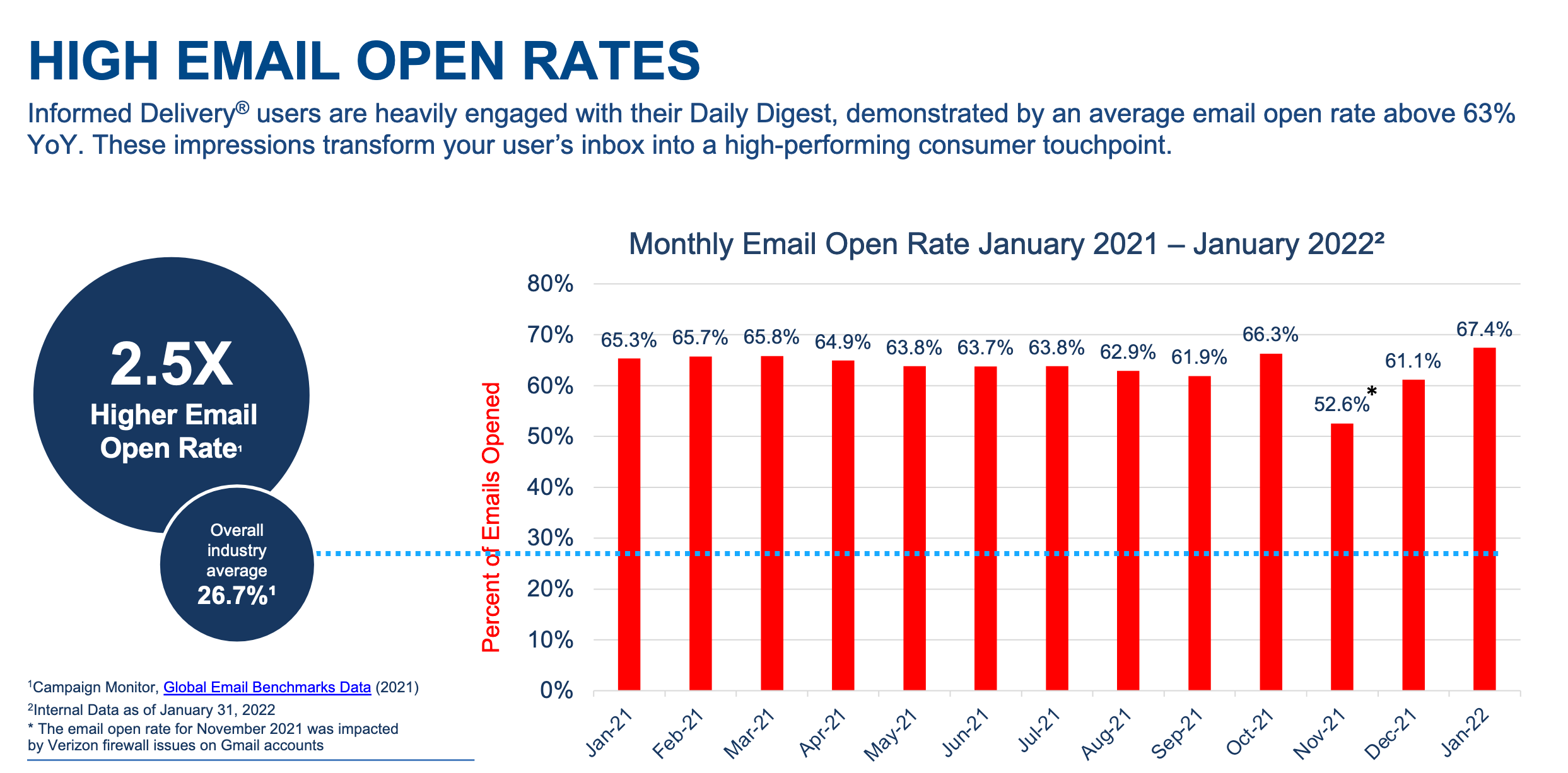 Get more bang for your marketing buck! With an average email open rate above 63%, Informed Delivery outpaces the industry average.*
Get on board with the direct mail program that gets results!
More and more of our clients are taking advantage of the Informed Delivery feature — it currently has about 46 million users, and a 37% year-over-year (YoY) growth rate. What's more, it's average email open rate has consistently outpaced the industry average at above 63% — users can check their Daily Digest in the morning to see what to expect in the mail.*

USPS Informed Delivery maximizes return on investment across the gamut of business spend.*
Want the latest technology — like Informed Delivery — in your marketing mix?
Contact DMW today for a no-obligation consultation. We'll talk with you about your marketplace challenges. And tell you more about how this innovative media feature — with direct mail, digital, and email — can boost consumer engagement in your campaigns.
*Source: Internal Data as of September 30, 2021, Informed Delivery Year in Review, USPS.