"So, what are you bingeing?" That's the question everyone's been asking lately. With more time spent at home since the start of the pandemic, content viewership has seen a serious uptick — especially within the streaming world.
In recent years, the options for streaming service have grown exponentially, with more and more viewable content — new and old — becoming available on a daily basis. And now with movie theaters shutting down globally, distributors are opting to release new movies via streaming platforms. The available content is almost limitless.
What advantage does this streaming explosion offer advertisers?
Now more than ever, advertisers are seeing a huge advantage, thanks to the increase in eyeballs on streaming devices, which means an increase in inventory that's up for grabs. This gives advertisers more truly viable options to reach viewers, beyond the traditional TV medium.
Connected TV (CTV) and Over-the-Top (OTT) Streaming TV services — YouTube, Hulu, Netflix, etc. — have played a pivotal role in increasing reach across TV buys and supplementing digital ad plans. With more people at home spending an average of 8 hours a day streaming content, eMarketer reports that CTV ad spending is up 25% in 2020 and will increase 56% to $10.81 billion by 2021.
How should advertisers plan future TV buys?
In the very near future, we could see Streaming TV surpass traditional, linear TV. Now is the time for advertisers to get in toward the start of the bell curve. If you haven't already, consider starting to take advantage of complementing your Broadcast TV buys with Streaming TV. Or using Streaming TV when budget constraints won't allow for Broadcast TV buys.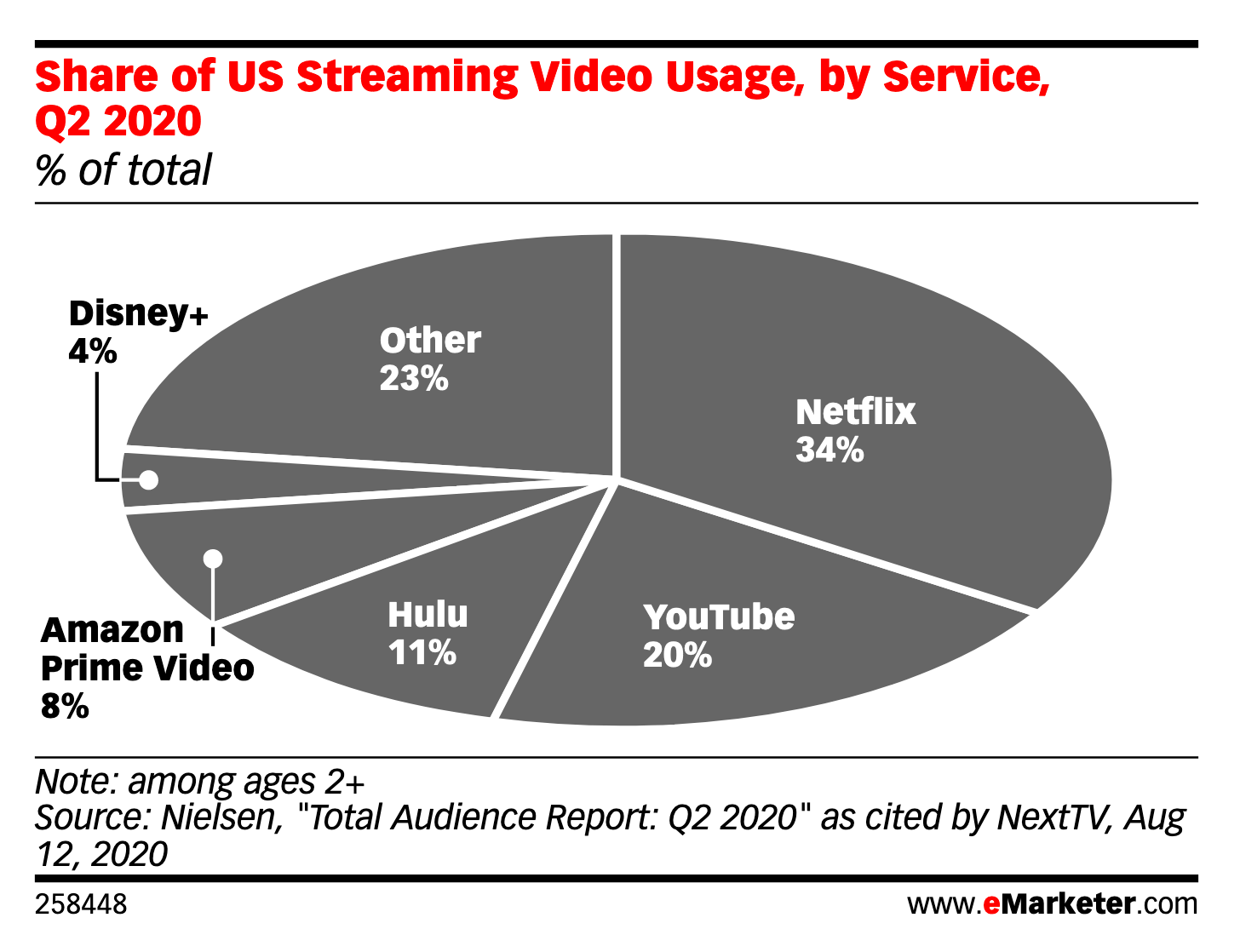 Why should advertisers incorporate Streaming TV into their TV buys?
Streaming TV is a cost-efficient way to expand the audience reach of Broadcast TV, and it can provide a better Return On Ad Spend (ROAS) compared to other digital channels. Unlike Broadcast TV buys, streaming services are more nimble, allowing more flexibility to serve ads to more of the right people at the right time. This also means better control of the audiences being reached, and enables your media team to optimize performance and creative versions in an instant.
Are there still more benefits to complementing Broadcast TV buys with Streaming TV — even beyond its overall efficiency?
Various platforms offer a variety of ad formats. Videos can be interactive, allowing users to engage more with the ad and immerse themselves in the brand.

Response rates tend to be higher, especially when views are completed on a handheld device, such as a mobile phone.

Viewability concerns occurring in other online video buys (i.e., in-banner videos) essentially do not exist within streaming platforms because the ads are seen within the content that viewers are engaged in.

Reporting and optimizing OTT video ads can be done in real time.

Video ads can also be bought several different ways, including Cost per Impression, Cost per View, Cost per Completed View and Frequency, allowing advertisers to choose the best option for their campaigns.
According to eMarketer, consumers are spending an average of 8 hours a day streaming content.
But what obstacles still exist?
While ad fraud has long been a worry, and it remains at the top of the concern list, things are improving. Companies like Integral Ad Science (IAS) work to combat ad fraud with sophisticated tools and technologies to ensure ad fraud is at a minimum.
Also, there are still many platforms that do not rely on advertising and run strictly on subscriptions. In Q2 2020, almost half of the time spent streaming was from the ad-free platforms Netflix, Prime Video and Disney+. Platforms like Hulu and YouTube provide not only ad-supported rates, but ad-free subscription rates as well.
Remember too, there are other ways to reach digital users with video ads and commercial-like ads. Facebook, for instance, generates nearly 8 billion daily video views from 1.4 billion daily active users. Video campaigns are on the rise, with sponsored video views increasing 258% since 2016.
Is this a temporary "new normal," or long-term trend?
The question now is whether or not Streaming TV will continue to see growth after COVID-19. Prior to the pandemic, eMarketer seemed to think so. Back in October 2019, they estimated ad spend will be $14.12 billion by 2023.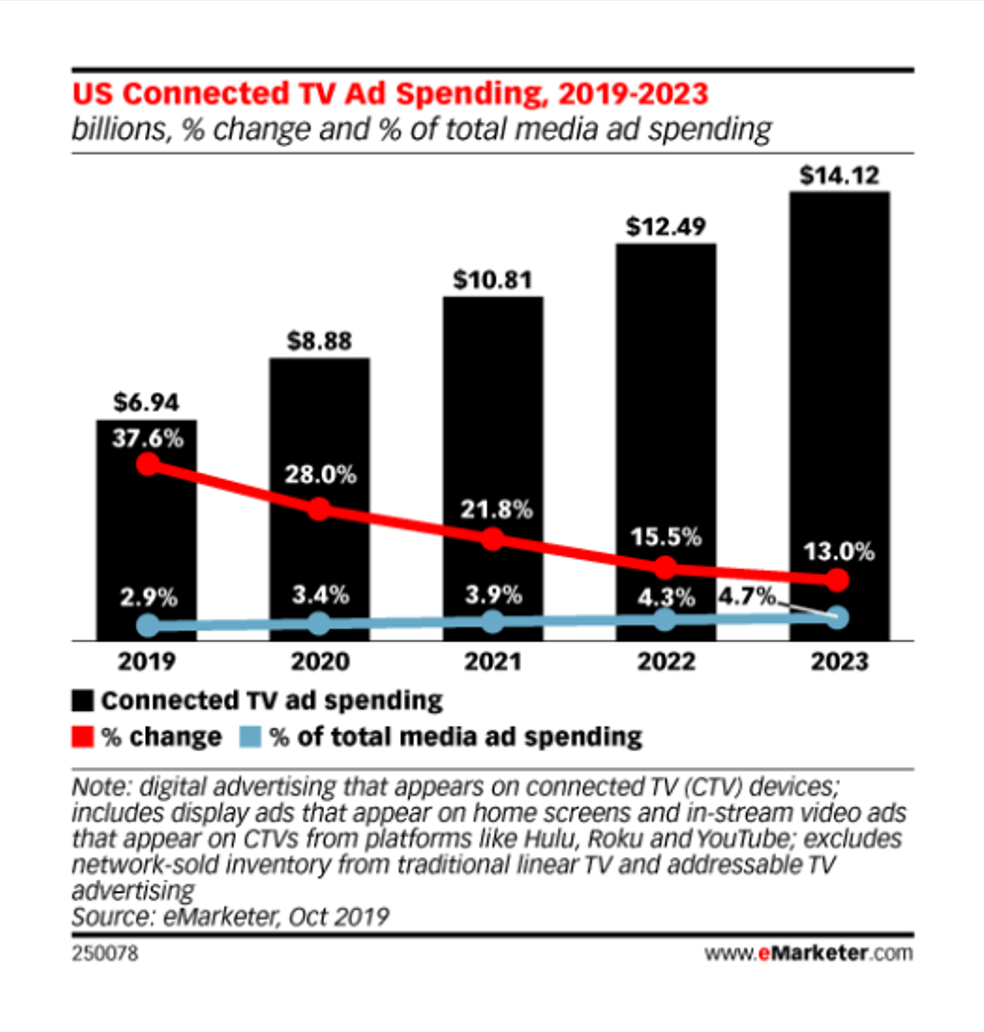 Our takeaway: smart media buys will add streaming in the mix now.
In fact, the DMW team has been testing and expanding the use of streaming for our clients over the past few seasons. The days of scheduling your life — as a consumer or advertiser — around prime time TV are gone. Say hello to content anytime, anywhere. All advertisers must recognize the shift in viewers' habits and preferences or be destined to miss out on valuable swaths of target audiences.
With growth projections up even before the pandemic, it appears this trend will continue — even post-COVID. All this supporting data points to a simple solution: work Streaming TV into your advertising buys whenever possible. Wondering how much and where to add it into your plans? DMW is ready to help.
Talk with us about your product or service and your buyers' core demographics. From there, we can make suggestions and start developing the right solution to reach your targets — with better response and lower costs. Ready to see your response go OTT, both literally and figuratively? Contact us and we'll help you succeed in today's multi-platform media landscape.