Several months ago, I was a Medicare newbie. I came to DMW with years of experience as a writer and content strategist at a global investment company and limited familiarity with health insurance. But what I lacked in Medicare experience I made up for in enthusiasm about learning something new and sharing my knowledge through my writing. And here we are today.
Knowledge is power
What I quickly learned: Medicare is complex. Explaining it is like explaining an IRA — on the surface, an IRA is a retirement account and Medicare is a government health insurance program. Easy enough. But when you're marketing an IRA to an audience, you can't advise them to just open an IRA and start growing their money. They have to choose the type of IRA they want (traditional IRA, Roth IRA, SEP IRA, etc.); determine an asset mix that matches their goals, time horizon, and risk tolerance; select individual securities; and so on. Choosing a Medicare plan involves a comparable amount of decision-making.
The similarities don't end there. Although your audience has to put in time and effort to understand Medicare and IRAs initially, the payoffs — low-cost health care benefits and tax-deferred compound growth, respectively — are worth it.
Just like patient education is part of patient care, client education is part of the client experience — and it should start at the very first touchpoint.
I studied the body of work DMW created for clients aging into Medicare; spent time looking over my colleagues' shoulders; and asked a lot of questions. Based on my own learning experience and the success of DMW's clients and campaigns, here's what I recommend when you're trying to engage prospects that are new to Medicare.
Stick to the alphabet
Briefly touch upon the parts of Medicare: Medicare Part A (Hospital Insurance), Medicare Part B (Medical Insurance), Medicare Part C (Medicare Advantage), and Medicare Part D (Prescription Drug Coverage).
Medicare Part C gets a letter of the alphabet, but it's kept at arm's length from the other parts of Medicare because it's unique. It's a health plan offered by private insurance companies. It includes all Medicare Part A and Part B benefits — plus extra benefits. Most plans also include Part D drug coverage. Over the past several years, Medicare Advantage plans have grown in popularity, attracting people 65+ with everything from vision, dental, hearing, and fitness benefits to telehealth visits and acupuncture — none of which are included in Original Medicare.
Describe Original Medicare
Technically, you can sum it up in a sentence: Original Medicare is Medicare Part A and Part B. But there are a few more high-level points I think are important for everyone to understand, especially the last point. From a marketing perspective, it can be used to create a powerfully persuasive example to demonstrate why Original Medicare is not enough for most older adults.
Most people don't have to pay a monthly premium for Medicare Part A if they paid Medicare taxes while working.
Most people pay a standard monthly premium for Medicare Part B — it's $164.90 for 2023. (It will be $174.70 for 2024, an increase of $9.80 from 2023.)
You have to sign up for Medicare Parts A and B even if you plan on enrolling in a Medicare Advantage plan immediately.
If you enroll in a Medicare Advantage plan that has a monthly premium, you pay your Medicare Part B premium in addition to your Medicare Advantage premium.
With Original Medicare, you can see any provider who accepts Medicare.
If you just have Original Medicare, you pay 20% of the Medicare-approved amount for covered services after you meet your deductible ($226). There's no out-of-pocket limit, and no prescription coverage.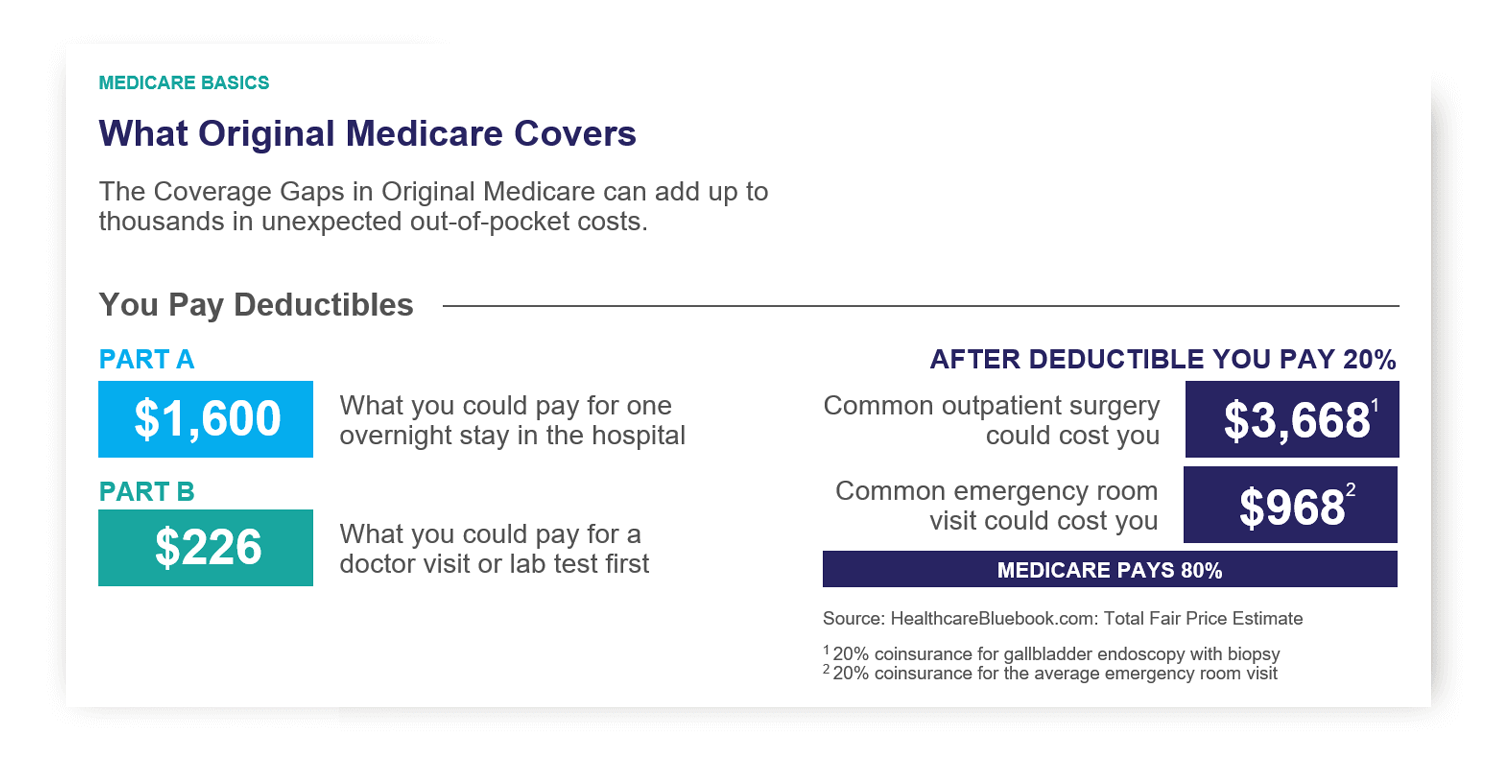 This chart shows how quickly out-of-pocket costs can add up with Original Medicare.
Cover the gaps Medigap doesn't fill
"Med Supp," or Medicare Supplement insurance, aka Medigap, is often positioned as its own Medicare option, which isn't entirely accurate. Medigap rides shotgun to Original Medicare, paying for what it doesn't cover.
Medigap is marketed to seniors looking for freedom and little (or no) out-of-pocket costs at the doctor's office. Medigap plans help cover what Original Medicare doesn't — including copayments, coinsurance, and deductibles. Some plans even cover foreign travel emergency care.
All Medigap policies are standardized so they offer the same basic benefits no matter where you live or which insurance company provides the policy. Most states offer 10 types of Medigap plans, which are named by letters: A-D, F, G, and K-N. The only differences between plans with the same letter are the insurance company and the cost.
Although Medigap plans provide valuable "gap coverage," they don't include prescription drug coverage. So, in addition to choosing a Medigap plan, a lot of people also opt for a prescription drug plan.
Because Medigap and prescription drug plans are offered through private insurance companies, each plan has its own monthly premium, copay, coinsurance, and deductible. In a sense, people end up with four separate but related insurance plans (Medicare Parts A and B, Medicare Part D, and Medigap) with different features to manage.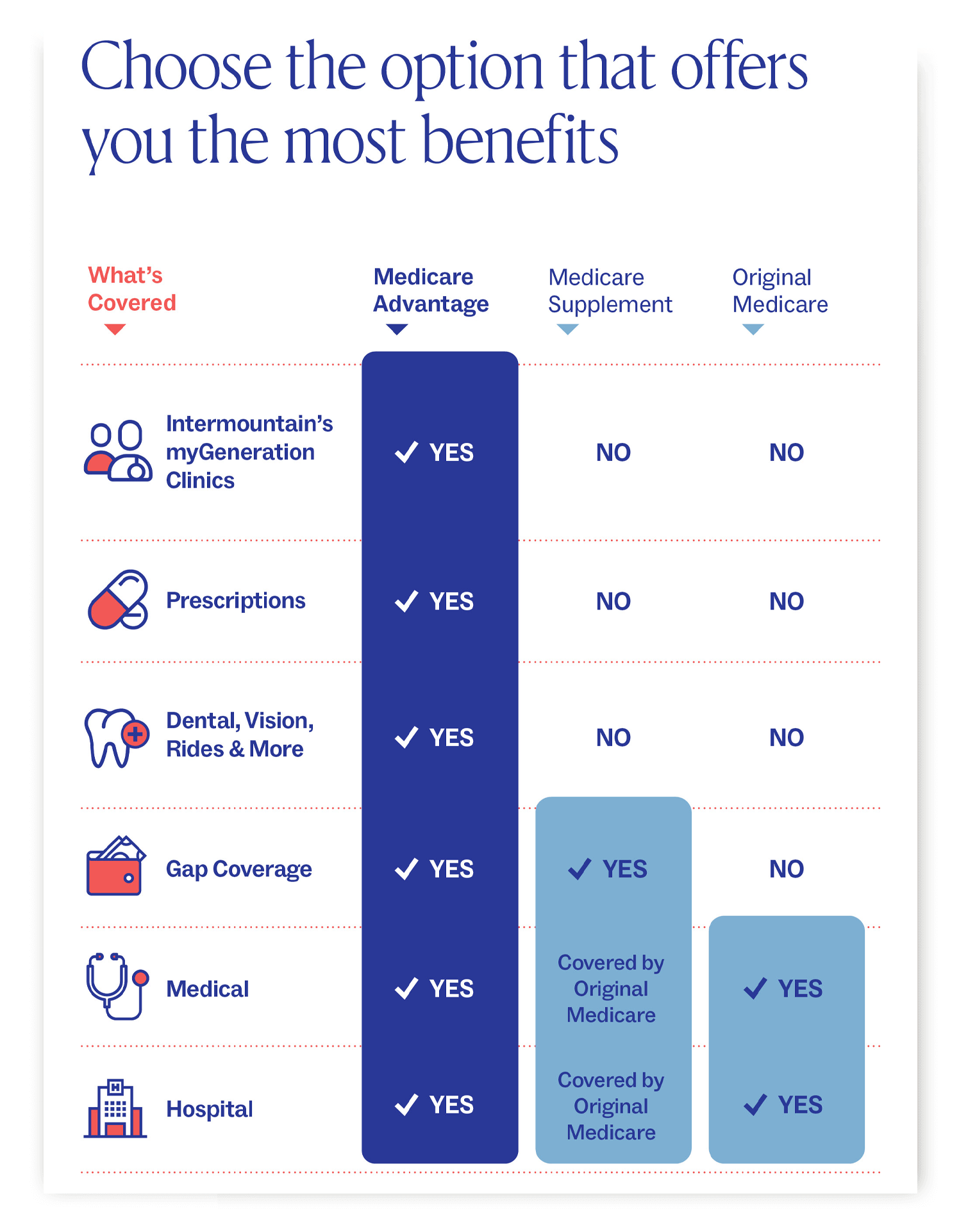 This chart was created for Intermountain's myGeneration Clinics. It shows what Medicare Advantage plans cover compared to Medicare Supplement/Medigap and Original Medicare.
Talk about timing
If your audience asks, "When can I sign up for Medicare?" the simple answer is, "Most people sign up for Medicare Parts A and B when they turn 65." But this can be an oversimplification for a lot of people.
The Initial Enrollment Period (IEP) to sign up for Medicare Parts A and B is actually seven months long — it includes the three months before you turn 65, the month you turn 65, and the three months after you turn 65.
If someone misses their IEP and doesn't qualify for a Special Enrollment Period (SEP), they'll pay a penalty. It's worth noting, the penalty is added to their monthly Part B premium for as long as they have Part B coverage. Ouch.
If you qualify for an SEP, you have a valid reason to bypass your IEP and delay your move to Medicare. Most people who qualify for an SEP are employed and have health insurance through their job or have health insurance through their spouse's job. With more people working longer, this exception to the rigid timing is an important point to get across.
K.I.S.S.
In high school, my teacher said this acronym meant Keep It Simple, Stupid. (Perhaps he was mistaken, or I was naïve, because the internet says it's Keep It Short and Simple, which seems more appropriate.) Regardless, use plain language in marketing materials.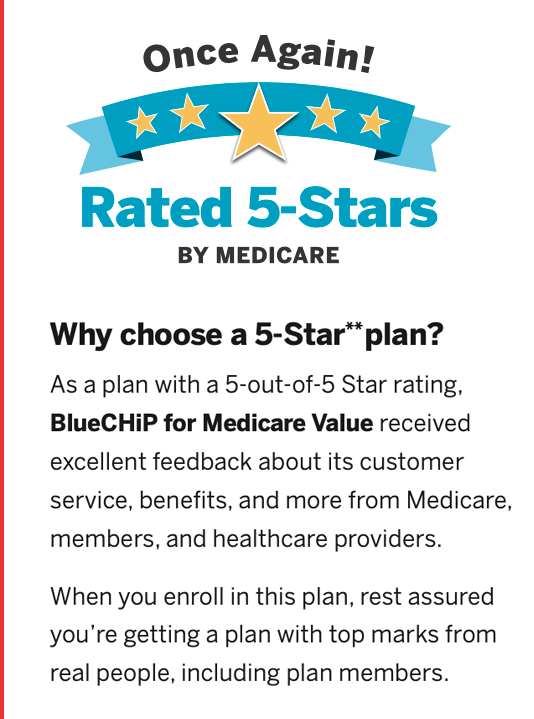 When possible, explain Medicare terms prospects and clients may see in plan materials as they get deeper into their decision process — terms like "formulary," "star ratings," "Extra Help," and "coverage gap." Just like patient education is part of patient care, client education is part of the client experience — and it should start at the very first touchpoint.
Relate to your audience
I hope my experience as someone who joined the world of Medicare with a fresh perspective will be valuable in helping industry experts relate to their "new to Medicare" prospects and clients. As I said in Improve how you market to seniors, relating to your audience helps your brand establish a connection and sets the stage for you to build a relationship with each additional touchpoint.
DMW knows Medicare
Given DMW's 40 years of experience in the industry, I know I'm learning from the best. If you have any Medicare advertising needs, reach out.