The ins & outs of accomplishing pinpoint personalization across all platforms
Imagine directing your marketing messages and offers, with surgical precision, to highly targeted consumers – across all media channels. Reaching specific individuals and households via web video, digital ad campaigns, Facebook, Gmail, and now even TV ads with minimal waste … as if you were sending direct mail using data-minded mailing lists.
Fantastic, yes? Fantasy: definitely not!
We now have the technology, and your campaigns can start benefiting immediately. But can "Addressable Media" do all it's hyped up to do? How practical is it? Well, those are different and deeper questions … and why I urge you to read on.
Welcome to the next generation of direct response media.
In a previous post, we shared some of the ins and outs that differentiate response media. We delved into how our team approaches media research, planning, and recommendations to generate leads and sales, measured to tight cost-per-lead objectives, in contrast to Gross Rating Points, awareness measures, and "likability" scores used in general advertising. We touched on time-tested in-market optimization tactics, and more.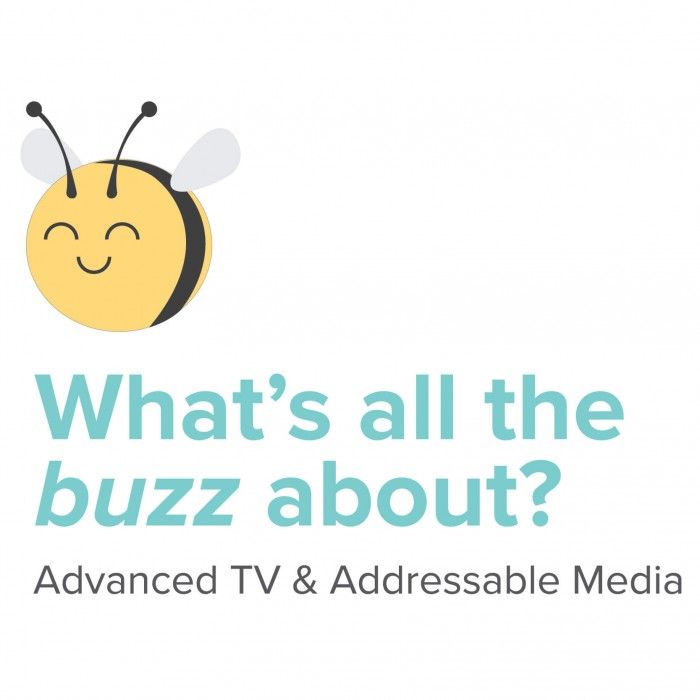 We deploy targeting techniques, using first- and third-party data. When they're skillfully administered, broad media channels — traditional linear TV, radio, etc. — are still powerful tools and perform quite well. They remain ideal for some objectives. But there's an inherent measure of waste. They are, by definition, a "one to many" proposition.
Postal mail offers a more refined targeting paradigm. It's always been a very effective arrow in our direct marketing quiver. From huge compiled mail files, to niched vertical files, to sophisticated models, we can very selectively target specific consumers. Demographic selects and behavioral insights abound. Digital, like direct mail, has much to offer regarding reach and targetability, too.
… But what if there were something even more? Taking some qualities of direct mail, but across all other channels. Almost like merging and blending mail targeting with digital delivery. Now, we're getting closer …
A quick look at today's media revolution.
Reaching your best prospects via traditional media such as broadcast TV, magazines, and newspapers is harder than ever, as all those channels — once the meat and potatoes of every state-of-the-art media plan — become increasingly fragmented.
Forty years ago, advertisers could reliably reach 80 percent of the U.S. female population (prime purchase decision makers) with a commercial that aired on CBS, NBC, and ABC. Today, that commercial would have to run three times a day on 100 TV channels to reach the same audience. Reflexively going with the "tried and true," or "what has always worked" equals more cost and more waste.
As a marketer looking to balance a P&L, you work with a system of checks and balances; with the biggest line item for consumer product brands, as well as most B2C products and services, being working media.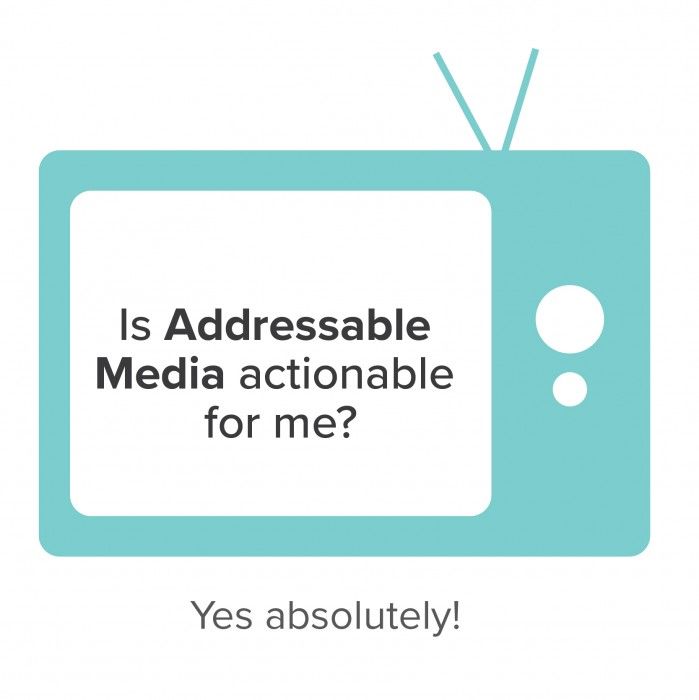 For marketers who prioritize sales over awareness, who measure cost-per-sale and cost-per-lead, levels of "waste" you once would brag about are quite frankly simply unacceptable today.
Fortunately, how we slash media waste has changed … or, more accurately, "is changing."
A significant media evolution — still in progress — opens new doors for savvy marketers. New technology enables direct mail-like targeting across many media channels, including TV. Media once defined as "broad market" can now be narrowly and efficiently targeted.
No wonder "Advanced TV" and "Addressable Media" have become such hot buzzwords.
It's no secret that the world of "TV" is undergoing a major evolution . Broadcast TV is joined in many homes by OTT platforms such as Hulu, Roku, Sling, Tubi TV, Sony Crackle, et al., plus video content via Facebook, Instagram, Vine, Vimeo, and other platforms and URLs. This list goes on and on, and continues growing.
So, that's the promise of Addressable Media. "Wow — that's fantastic," you say. "But … is it real, does it really deliver on that promise?" There's been increasing hoopla — and hype — about Addressable Media over the past few years.
The true answer to "Is it actionable for me? Now? Next quarter?" is yes, it absolutely is.
To see ultimate marketing ROI, it's time to scrap everything you "know" about TV.
Television has been the keystone of so many marketing campaigns. Moving images … music … live talent … animation … the persuasive power of "see and say." But actually, it's the "video" aspect that's so impressive as a marketing tool. "TV" is merely the traditional delivery medium.
Now we are redefining Video/TV media, given how we can distribute our message among three TV buckets:
Data-driven linear TV – (traditional broadcast and cable)
Household (HH) Addressable
Internet Protocol TV (IPTV)
Let's focus on the last two newer, and arguably more advanced "TV types."
HH Addressable is a 1:HH (one-to-household) buy, using first- or third-party data such as set-top boxes (STB). We could, alternatively, take a direct mail prospect list, upload and target just those homes on the list. While this eliminates a lot of the waste that comes with a traditional, linear buy, it doesn't get all the way to an individual.
IPTV on the other hand, snugs us closer to a true individual, 1:1 level. IPTV has two basic components – connected TVs (CTV) using Roku or other mobile devices (think hardware), and OTT apps (think software). While the large screen may be shared, the smaller screens get us down to an intimate, individual level.
Via these technologies, your spots can be aired; impressions made; offers and calls to action delivered — with precious little waste.
While "Advanced TV" is exciting and fascinating — a word of caution …
Media usage and consumption varies greatly among demographic groups. Depending on your target demographic, it may be wiser to use these advanced forms of TV to complement, rather than replace, traditional, linear television.
For example, for marketers promoting to an older demographic, recent Nielsen data shows that while older folks are viewing multiple screens, they still spend significant time watching traditional TV. If you focus on younger demographics, the scales tip in the other direction — but linear TV may still earn a place in a plan to reach Gen X and Y.
To get you the best return on your investment, your media team needs to recognize all factors during the research and planning phase. We must account for the cord-cutters, and cord-shavers (those with skinny bundles) in every demographic cohort, as well as the cord-stackers and cord-nevers.
In the final analysis: Advanced TV is the latest and greatest technique to add to the Addressable universe … not the whole picture.
How DMW makes Addressable Media deliver on its promise, channel by channel.
First: set strategic goals. What do we want to accomplish? Identify your objective: awareness, or leads. Volume of leads, managing the timing and flow of leads into a website or call center, managing to a specific CPL … where you want to go influences how we help you get there.
Then: focus in on your target. Who are your best prospects, by demographics and psychographics: age, gender, income, education; purchase history; attitudinal cohorts; behavioral factors and habits.
Let's say you want couples of a certain age across a tri-state regional market, homeowners, HHI $50–100K, with a specific chronic health condition who take two of five identified steps to stay on top of their health and wellness to engage in a sales call at $X cost per lead.
Finally: "Address" your target across channels to create a next-gen multimedia campaign for today's world …
An example of the array of media and messaging we might suggest, to reach the target and objective defined above:
Video & TV — examine all the above possibilities – HH Addressable TV, IPTV, linear TV — as well as web video outlets to create a custom plan.
Direct Mail — use postal mail's unique ability to place your message literally into the hands of your target, across 20 zip codes in three states. With minimal waste.
Email — cross-match postal mail lists, internal lists, and opt-in lists. We might send a timed multi-touch series of emails highlighting each of your service's top three sales points – ending with an urgent "Final Deadline" offer.
Gmail Ads — in addition to email, create and deploy messaging at the top of the inbox of each prospect's #1 email provider; a series of ads.
Social Platforms — using your prospect profile defined above, create message(s) to appear in paid ("sponsored") ads on Facebook, Instagram, YouTube, Twitter, etc., using an array of ad formats that have historically generated the highest response for our clients.
Online Display — exploit this more top-of-funnel channel to boost awareness and response across all efforts.
Point is: a one-sized, or channel-siloed approach can literally sell your product or service short.
Building on decades of experience refining time-tested disciplines and techniques to dial-up response and cut costs, our team cuts across channels — from "TV" and mail, to all digital channels — to target today's consumer in the contemporary multi-platform media landscape.
Chances are, you have questions. Or wonder how a plan might come together for your particular marketing challenges. We're here to help — please feel free to contact us for specifics and details on how Advanced TV and Addressable Media can work for you.