A set-it-and-forget-it mindset can doom your DRTV campaign to failure. Too many marketers have a passive attitude. "It's only 10 weeks; we can look at the results at the end and make adjustments if necessary on the next campaign." That might have been okay in the past — but why not make improvements to your current campaign to ensure success now?
You can dramatically increase your success with foresight and planning. In this post I'll:
Describe optimization through Buy Management.
Highlight the need to stress test your team and processes in advance.
Show real examples of how informed decisions make simple adjustments possible that can boost your campaign performance.
What Is Buy Management?
Launching a DRTV campaign requires many components, such as creative, production, research, and media planning. Once the campaign is in flight, optimization becomes equally important.
Optimization is the ability to change the course or outcome of results to achieve or surpass the goals established for the campaign. Those of us in the trade refer to it as "Buy Management." Several factors are needed to optimize a campaign. An obvious one is unique telephone numbers and/or web addresses. Another is the ability of the call center to capture responses and be able to accurately report that data back for analysis.
It is impossible to implement effective Buy Management tactics without data (e.g., calls, leads, sales). Lack of actionable data forces you to ride it out, or make decisions blindly. Many campaigns fail to ensure that the proper elements are in place prior to launch. The linchpin is having a functional call center that can receive, track, and accurately disposition calls.
Conduct a Stress Test BEFORE You Launch!
If you plan methodically, there are things you can do to set your campaign up for success. The first is to identify the variables to track once your campaign launches. The step that is most often skipped is allowing time to test the capability of your call center. Conduct a stress test of your back-end processes from start to finish before launch, including:
Staffing — How many calls can effectively be handled at any given time by representatives?
Scripts/Product Info — Are call scripts being accurately read? Are agents well informed about your product(s)?
Disposition — Are calls being tracked and "dispositioned" properly (e.g., hang ups, referrals, disconnected, duration of call, out of area)?
Reporting — Can the call center report collected data in a useful format?
This probably sounds like common sense and can be achieved with proper planning. You're right. But we've seen time and again people take it for granted or rush a campaign to market without allowing for this important step in their timeline.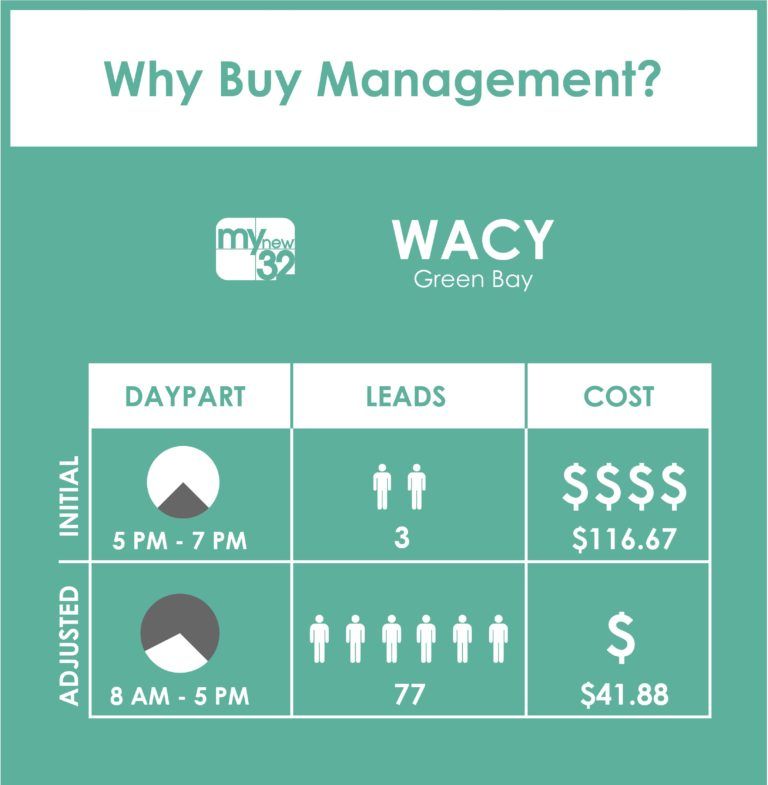 Example One - Analyzing activity from the initial weeks, adjustments in the TV buy significantly boosted response while cutting costs.
When done properly, nasty surprises can be nipped in the bud before one phone call is taken. Every client dreams of phones ringing off the hook. But if only 5% of the incoming calls can be answered, the dream just turned into a nightmare.
Post-Launch Campaign Management Tactics
Let's assume tracking is in place, and you're set for launch. Which tactics can you use to manage a campaign? It could be modifying the daypart you are airing in, negotiating a lower rate, or increasing/decreasing frequency or impressions.
Why? Because many campaigns do not produce the desired results right out of the gate. It's a buyer's job to help clients reach their overall goals against calls/CPC, leads/CPL, sales/CPS. We have found that implementing changes throughout a campaign can improve overall results greatly. In fact, we conducted two different studies and found that, on average, Buy Management increased lead volume by almost 40% while lowering the CPL by 30%!
No matter the final outcome, Buy Management can improve performance over the life cycle of a campaign. New campaigns should air for a couple of weeks without interruption in order to build momentum and allow station performance to dictate what kind of optimization should be implemented going forward. This time may be less for recurring campaigns where there is a history of available data to build trends, and understand initial results.
Tracking — With Intent to Adjust — Can Rescue Failing Campaigns
Following are two actual scenarios in which different tactics were applied to improve performance.
In the first scenario for WACY, two dayparts were booked on this station, but only one performed at an acceptable level (based on a $40 target CPL).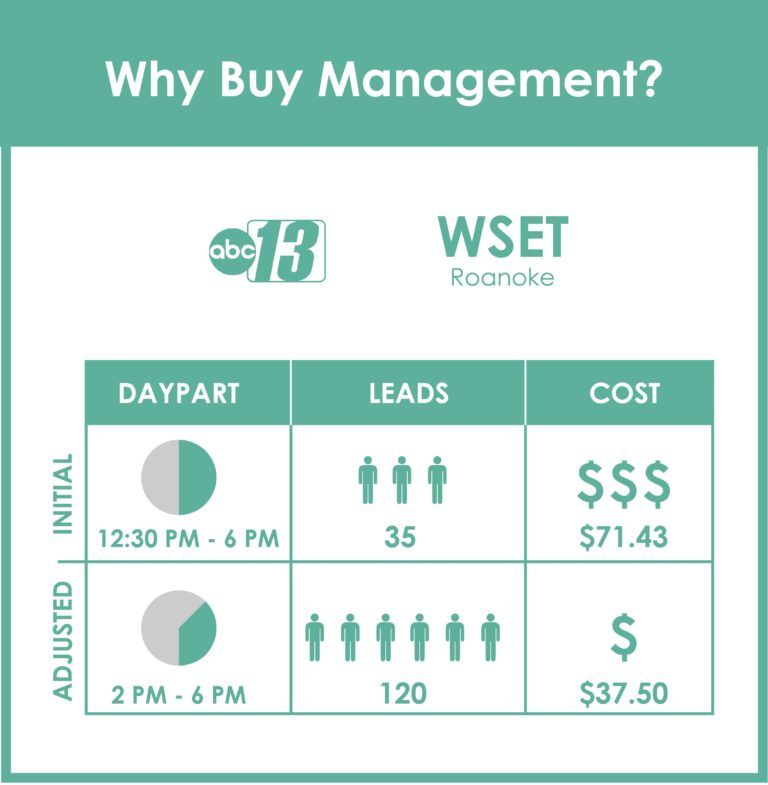 Example Two - different station, client, part of the country — similar results. The fundamental principles of Buy Management work, time after time.
The 5pm–7pm daypart was cancelled ($116.67 CPL) and its remaining schedule was reinvested into the 8ma–5pm daypart, which was producing a 71% more efficient CPL. By quickly removing the poor performing daypart, the station finalized with a CPL very close to target by the end of the campaign.
In the second example for WSET, the 12:30pm–6pm daypart was originally booked. But after multiple airings, we saw that the station was only airing our client's spot during the first couple of hours of the daypart, which was generating poor results (based on a $50 target CPL).
We requested a narrower daypart (in this case 2pm–6pm) and watched the CPL improve by 47%. Overall, the station finalized with a CPL that was 10% below target by the end of the campaign.
In both scenarios, Buy Management had a positive impact on performance — specifically increasing lead volume at more efficient CPLs. If we had let those schedules air as originally booked without any revisions, we may have risked not achieving the overall goals.
Four Steps to DRTV Campaign Success
Proper planning allows you to change course before your campaign ends. You can ditch the doldrums of underperforming dayparts or buy more and ride the wave of success. Here are four tips:
Work closely with your agency and call center to ensure that they have everything needed to track performance of your campaign(s).
Reduce potential issues by conducting a prelaunch stress test with the call center.
Expect to apply Buy Management/optimization tactics throughout your campaign. Also, based on historical trends, Buy Management can even be introduced during the planning stage.
If your agency is not tracking and modifying your DRTV campaign in real time, ask that they do.
DMW Direct's team always recommends the crucial step of conducting a stress test, particularly when new elements are introduced. We are experienced DRTV media managers with a proven track record of getting results for our clients. Let us help make your next DRTV campaign a winner.