One of the most common questions an ad agency hears from a prospective client is, "How can you make my product or service stand out to shoppers in my marketplace?"
At DMW, we specialize in direct response marketing. Many of our clients are in one of the fastest growing and most highly competitive segments in American health care: Medicare Advantage (MA) plans. That question of "How do I stand out?" becomes increasingly important each year … with new competition, new messaging challenges, and new media opportunities.
But, to get an answer that will really make an impact, the more focused question should be:
"How can I stand out to my target audience who's constantly inundated with marketing materials online and offline — AND get them to respond?!?"
The Medicare insurance market is a perfect petri dish.
Brand differentiation is critical in any category. Now more than ever, it is essential for MA plans to break through the bewildering clutter in a space teeming with scores of aggressive competitors.
So, how do you do it? Is there a formula for success? A silver bullet you can apply to your business? Well, no … and yes. We're not big believers in off-the-shelf formula approaches.
According to KFF research, over 24 million people are enrolled in Medicare Advantage plans.*
But there are consistent underlying principles that apply to any Medicare plan, or any considered purchase product or service category facing stiff competition. Let's take a quick look at 3 in-market examples that proved to be winners, and help demonstrate DMW's fundamental approach.
EXAMPLE 1 — Successful launches in Florida aren't just from NASA.
BayCare, the leading health care system in the Tampa Bay area, engaged DMW to launch their new Medicare Advantage plan: BayCarePlus.
Tampa Bay happens to be one of the most competitive MA markets. Across the country, a consumer on average has a choice of 33 plans.* Well, shoppers in Tampa Bay have their choice of 470 plans! BayCarePlus, however, would be unique in that it would be the only provider-based plan, different than national insurance players with deep pockets, such as Aetna, UnitedHealthcare, and Humana.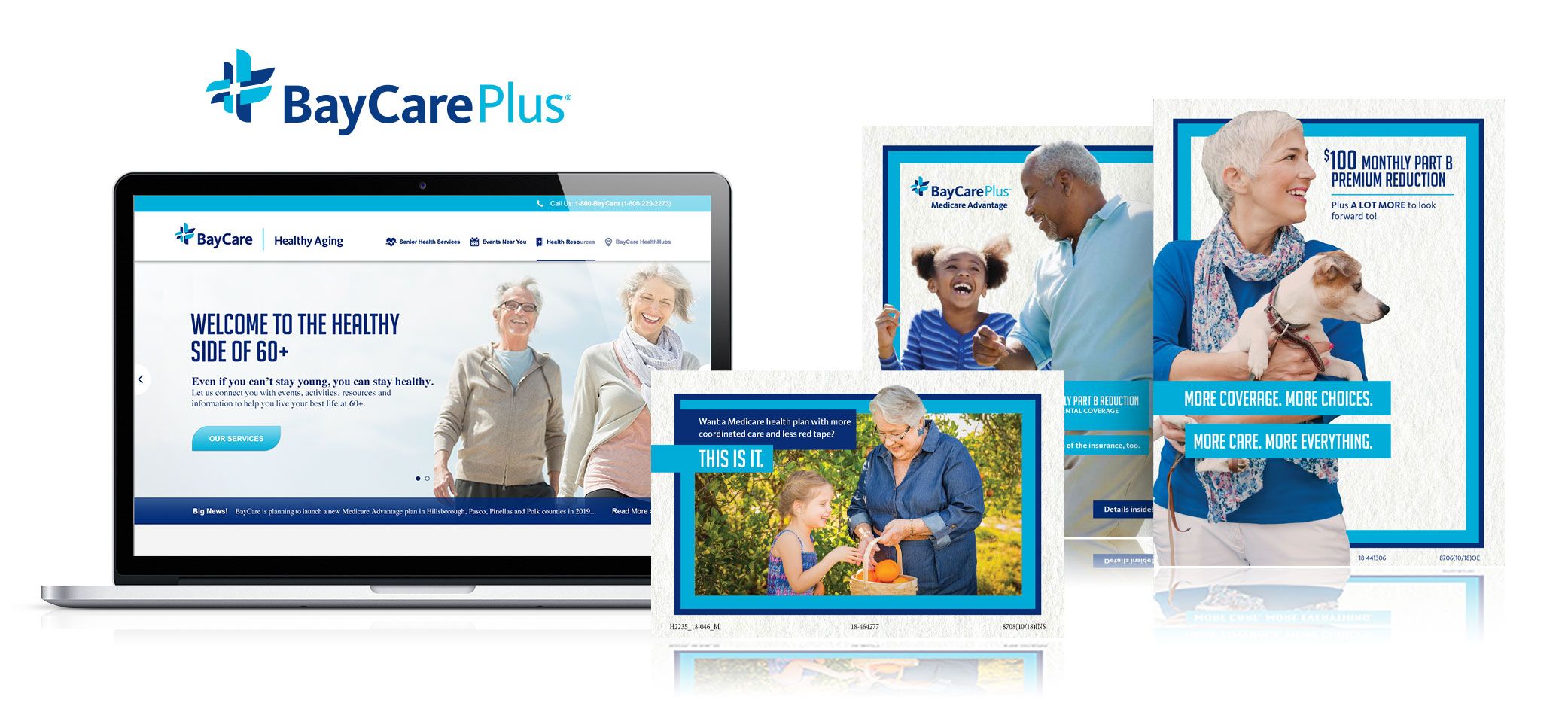 DMW's distinctive Action Brand™ campaigns helped BayCarePlus grow to over 11,000 plan members in 3 years … this launch campaign exceeded goals by 20%. Even better, today it's a 5-Star rated plan.
"The BayCare Difference" made all the difference.
Our challenge was to determine if that local provider affiliation was a meaningful differentiator for consumers. Which aspects of it may be truly appealing? And how to best communicate that meaningful difference? We considered that the Tampa Bay audience is inundated by dozens of different plans that look similar on paper — most with $0 monthly premiums, many offering Part B "buy-back" premium rebates, plus attractive supplemental benefits.
The winning position our team developed presented the new BayCare plan as the "good guy" in the marketplace: a locally owned, community-driven health care partner. Finding the right copy phrases and graphics to demonstrate the benefits of working with a provider-based plan, eliminating the hassles of dealing with an insurance company, and offering a personalized VIP member experience, backed by a robust care network plus competitive benefits: All together it proved to be a winning formula!
EXAMPLE 2 — Going beyond "personalized" to be truly personal
Personalization. We heartily endorse the idea. Unfortunately, many applications we see, even in digital media, don't go far beyond 1980s direct mail.
A landing page that says "Welcome John Doe" isn't much more personal than the old "John Doe, be the first family on 124 Main Street to get this limited-edition collector's plate" in those mailings we trashed decades ago … back before we had recycling bins, even.
Connecting, beyond just recognizing
Deciding exactly when, and how, to enroll in Medicare is a very personal topic. The challenge with deeper personalization is being more intimately one-to-one, while respecting a person's privacy and avoiding any Big Brother perceptions. For Johns Hopkins Advantage MD, we developed assets for 64- to 65-year-olds that accomplished both objectives — by putting the power of data input into our consumers' hands.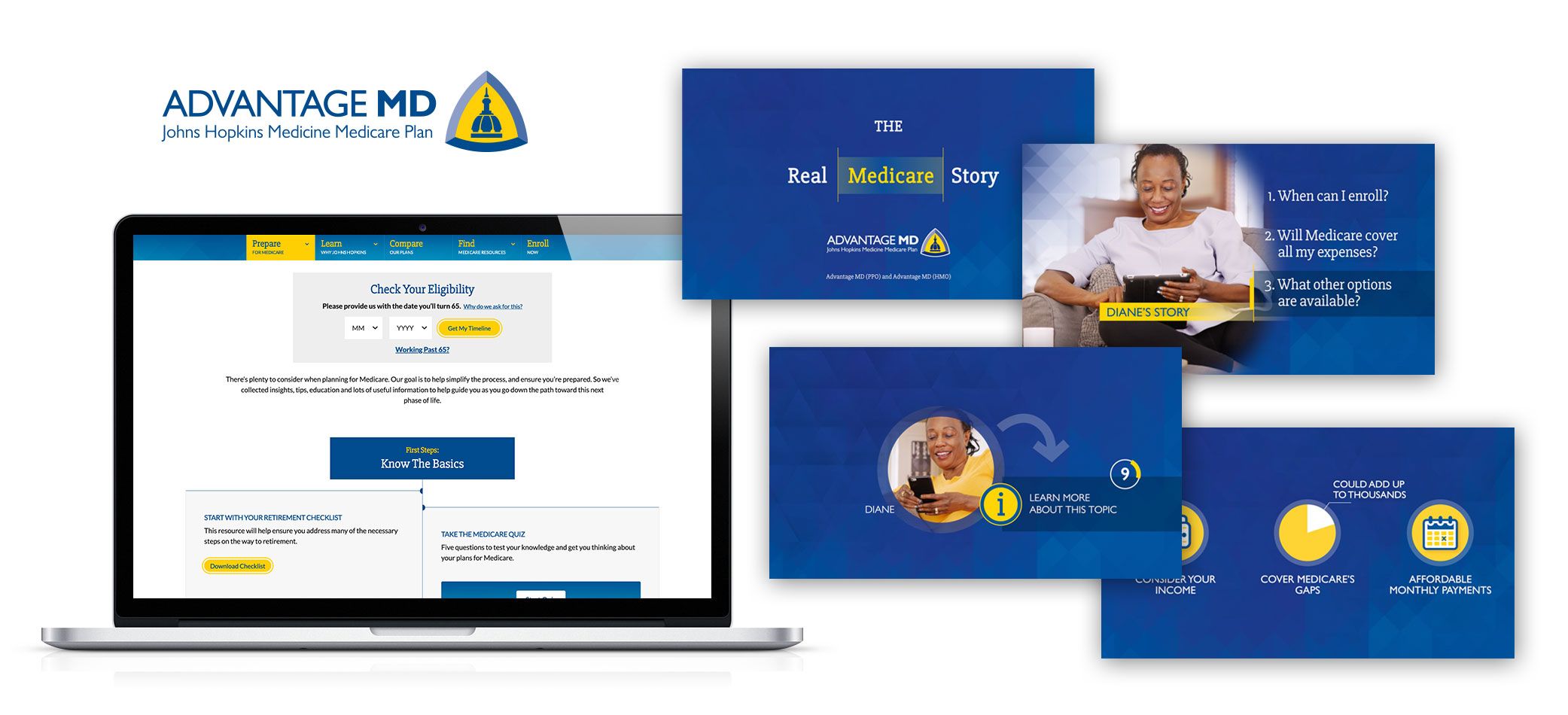 Digital personalization was just one facet of the DMW omnichannel Action Brand™ campaigns that helped propel Advantage MD from a "zero-base" launch to the leading MA in their marketing footprint, in just three years.
There are many "Medicare Timelines" around for people to view as they reach Medicare age. But this tool (pictured at left above) is unique in that the individual personalizes it by entering their own dates, to create a truly personal timeline. Then, a self-directed dynamic video "The Real Medicare Story" (pictured at right above) empowers them to explore Medicare, their way. Prospects can "go deep" if a section intrigues them, or simply skim past, depending on their interests, or personal whim.
EXAMPLE 3 — A new perspective on counting beans in Boston
Tufts Health Plan had been a DMW client for a number of years. They are recognized as a 5-Star plan, an honor awarded to very few plans nationally.
But Boston happens to be an overachieving market — with high-quality competitors, too! So, what would be a major leg-up in nearly any market nationwide, is mere table stakes in Tufts' home market. What to do? Our team took another look at plan benefits … through the consumers' eyes.
Years before competitors did their math to "roll up" total benefit sums, DMW led Tufts to place winning mail, digital, and TV executions that posted up to 200% (or higher) response increases.
Making plan benefits really add up
We hunkered down and did a calculation of the plan's actual, total impact on a member's wallet. Like shoppers, we asked: "Am I getting good value? Am I saving money … really? What's the best deal for me?"
With the consumer POV in mind, we touted the total potential savings a consumer could see with Tufts' plan. It started with the MOOP, aka "maximum out-of-pocket" benefit. It's kind of an "in the weeds" insurance-geek benefit. Doesn't sound too exciting. But we saw that it could mean saving thousands of dollars in health care bills. Starting there, and adding other "Cash" benefits, we devised a compelling new offer — as seen in the accompanying mailing that produced a winning response in market.
DMW has helped differentiate Health Insurance Clients — Coast to Coast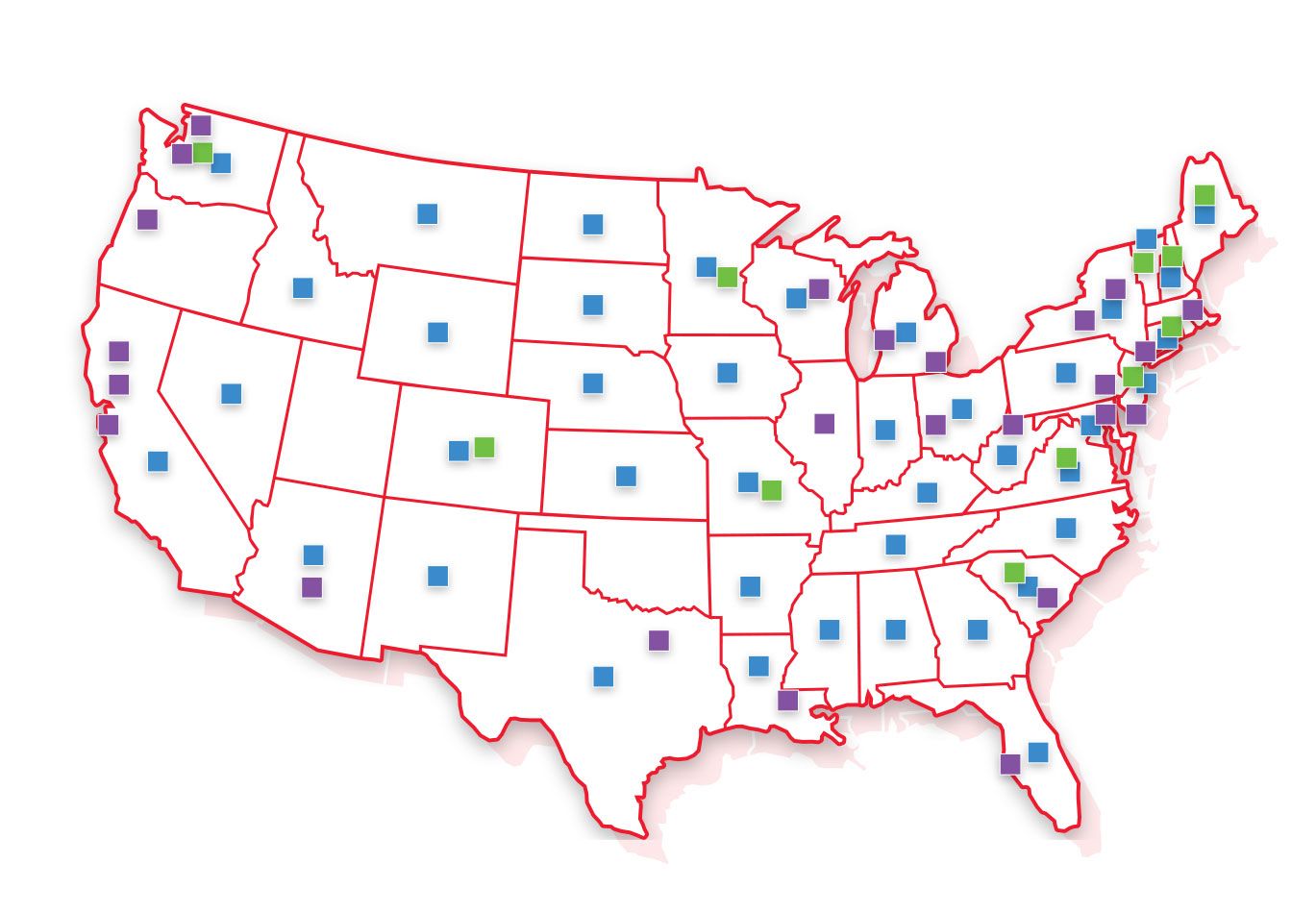 No matter where you are or what stage — developing your next breakthrough campaign or launching a new health care plan — DMW has the team and techniques to help differentiate your brand and generate outstanding results!
Want standout results with your next marketing campaign?
Talk to DMW. We have helped health insurance plans across the country — and clients across industries — differentiate their value proposition and drive response.
From full-product positioning and omnichannel campaigns, to making digital technology persona for prospects, to timely tactics that hone in on product specifics or marketplace events, DMW has the wherewithal to make a measurable difference in any marketplace. Including yours! So contact us today for a no-obligation consultation.