Editor's Note: This is the last installment of a three-part series that explores how to master Google Analytics for better digital marketing campaigns.
Become a Google Analytics Power User — Part 3: Improving Site Engagement
---
Get more power over your site engagement.
In part three of this 3-part series, we'll be discussing how to improve site engagement by leveraging and evaluating KPIs, page values, and conversion paths. All three of these will vary greatly depending on the type of site you own (e-store vs. content vs. lead gen), but the fundamentals of each can be adapted to any site.
Why is site engagement so important? It's all about KPIs — going beyond mere metrics, to hone in on the right Ks. The more engaged your targets are and the easier they can navigate to what they want, the more business objectives you'll achieve — which goes right to improving your bottom line.
Establishing Key Performance Indicators (KPIs): essential to business success
A key performance indicator is generally defined as:
A measurable value that demonstrates how effectively a company is achieving business objectives.
Establishing the right KPIs prior to launching a site, campaign, product, promotion, video, blog post, etc., is essential to growing a successful business. To establish relevant KPIs, you first need to define a clear list of business objectives.
If you don't know what your business objectives are, then in the words of Google's Digital Marketing Evangelist, Avinash Kaushik, "you're doomed!" We're not going to get into business objectives here, so I'm going to assume you have them figured out. Based on those objectives, you can begin to determine KPIs. Great KPIs are closely tied to business objectives – here are some general examples:
Cost Per Acquisition
Revenue Per User
Lifetime Value
Average Order Size
Visitor Loyalty
Now, to identify the most relevant KPIs for your campaign. If they aren't tied to achieving your business objectives, then they aren't KPIs, they're just metrics. For example, using click-through-rate and cost-per-click as KPIs for a lead gen campaign can't really be tied to business success. Cost-per-lead and conversion rate would be good KPIs for this type of campaign, because you have to know which lead ads are converting well (which can impact creative budget for the project), and you have to measure against an acceptable CPL range. Get the idea? Don't get me wrong, you will continue to use metrics as diagnostic measures when you're analyzing data, but your main focus should be on KPIs.
Refining and Improving KPIs: key to moving your sales/revenue meter
So how can you use KPIs to improve site engagement? Let's use a content site as an example. If you run a content site (news, blog), it's likely that one of your business objectives is to generate revenue from advertisements. Some KPIs for a content site could be Bounce Rate, Page Depth, Loyalty, Page Value, and Revenue Per User, since all of these indicate how engaging your content is, which leads to advertising revenue, which is tied to business success.
Using KPIs like those just cited, plus other metrics such as Pages / Session, Pages / User, Scroll Depth, and Average Time on Page can help you identify areas that may need improvement. Some examples are:
Bounce Rate can help you understand if your content matches expectations. Use this when looking at traffic sources and landing page reports
Visitor Loyalty (repeat users) can indicate how good of a job you're doing at bringing people back. You can look at content reports to see what content drives loyalty
Page Depth is a good indicator of how engaging your content is. More content consumption = higher business rewards (such as more ad revenue long-term)
Pages / User can tell you how much content is being consumed. This is a calculated metric. You can create calculated metrics in Admin > View > Calculated Metrics.
Scroll Depth can show you how much content a user consumes on any given page. If users are only scrolling 25% of your content, look at who the audience is and whether the content is meeting expectations
Analyzing Page Value: the key to more conversions
Page Value is an often-underutilized metric in Google Analytics. It's defined as the average value of a single page or set of pages. What this really means is how often a page appeared in a session when a conversion was achieved. Page Value can show how important or helpful a page was to a user. The calculation for page value is:
(Transaction Revenue + Total Goal Value) / Unique Pageviews
Let's assume you're just tracking goal conversions for a lead gen site, and let's say your goals are: download an asset, email signup, and phone calls. If you know how valuable your goals are to your business, you can (and always should) assign them a value when you set them up. If you don't know a specific value for any given goal, that's fine, just give it a relative monetary value. For the examples above, the values could simply be: $10 for download asset, $25 for email signup, and $50 for phone calls, based on how valuable each is likely to be for the business. If you have actual revenue that you can tie back to a goal completion, then by all means, use that as the goal value.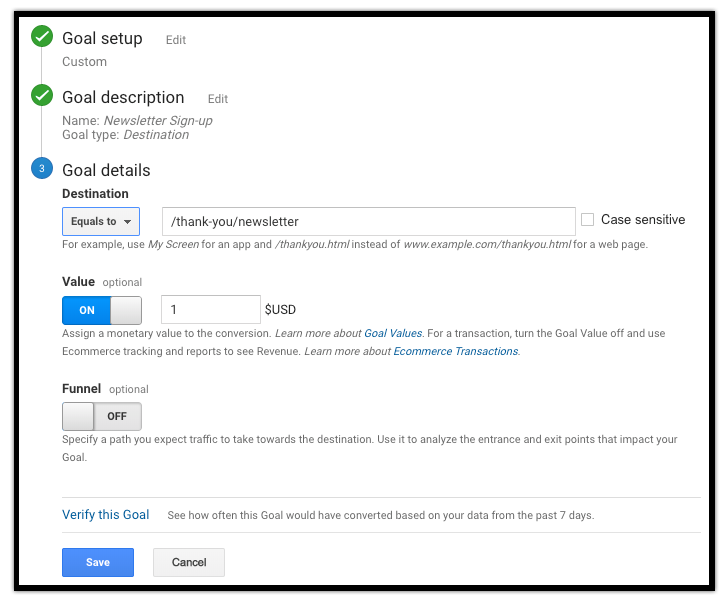 The Page Value metric can be viewed against pages within Behavior > Site Content > All Pages. You will not find this metric as an option in the "Landing Pages" report, because Landing Pages are determined at the session level, whereas "All Pages" data is recorded at the hit level (single interaction). Since page value coincides with conversions, you can see which pages are most valuable to users when it comes to driving conversions. It basically gives you a bird's eye view of how all pages perform relative to each other while influencing the bottom line. The higher the page value, the more conversions have occurred after that page within the same session.
So how can you use page value to improve site engagement? One way could be to rearrange your navigation by making high-value pages more prominent to increase engagement. Same goes for making on-page CTAs that point to high-value pages more prominent to encourage more conversions. Pages that have low values can indicate that they aren't playing much of a part, thus they may need to be optimized.
Understanding Conversion Paths: helps optimize UX and your goal funnel (aka conversion funnel)
The last thing I'm going to briefly go over is conversion paths. You can use Reverse Goal Path to see the last three pages in sequence that led up to a particular goal completion. You can access this report within Conversions > Goals > Reverse Goal Path. Even if you haven't set up goal funnels, this report can help you understand which pages drive conversions, and you could use these paths to configure actual goal funnels.
Goal funnels are ideal for seeing where drop-off occurs in between each step. Try to create funnels for all of your multi-step forms, quotes, applications, check-outs, etc. This will help you see where optimization can improve user experience, which typically helps entice users further down their conversion path.
If you've enjoyed this 3-part series on becoming a Google Analytics power user, subscribe to the DMW Blog so you don't miss out on future installments from our marketing experts. And if you're considering a digital marketing campaign, DMW is always ready to help you strategize, plan, execute, and optimize. Call or email us today.