RISE is ranked #1 in the Medicare marketing industry for its content and conference experiences — including their 12th annual Medicare Marketing & Sales Summit (MMS), recently held in Las Vegas, Nevada.
It's a unique forum to hear the latest and greatest challenges, trends and solutions from every perspective of the business. This year, over 350 delegates and 30-plus exhibitors. DMW was there, as well … represented by Renee Mezzanotte, EVP of Client Engagement; Rachel Silva, VP of Strategy and Innovation; Justin Stauffer, our VP of Integrated Marketing and a featured RISE MMS speaker; and Meridith Oram, an Account Supervisor at DMW.
Our summit attendees came back sharing a wealth of valuable insights and actionable strategies to help drive leads, enrollment, and boost member retention. We sat down with each of them to discuss their impressions and uncovered 10 key takeaways …
Q: What are your top-line thoughts about this year's RISE Medicare summit?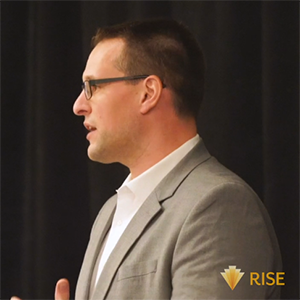 Stauffer: "This was my 5th year attending (4th year as a speaker), and 2020 looked like their largest turnout. I spoke in the morning on day two and the audience was very engaged. Overall, the RISE presenters spoke much more on digital challenges."
Oram: "As a first-timer at RISE, I was impressed by the meeting of the minds. The top companies in Medicare marketing were represented from all sides — insurance providers and health care providers from several different departments, data shops, and marketing teams from both the client side and agencies. There was even a presentation from someone in Compliance giving insight as to why they sometimes have to say 'no' to copy and marketing approaches."
Q: Are Medicare plans still seeing AEP as the primary marketing window for new members?
Mezzanotte: "Plans spoke about the shift between New to Medicare and AEP enrollment. Just as we've been seeing, growth is no longer just occurring during the AEP. The SEP (OEP switchers, New-to-Medicare consumers and new movers) is now making up anywhere from 45% to 55% of new membership. Plans should be looking to ensure their budgets and their strategies reflect this shift."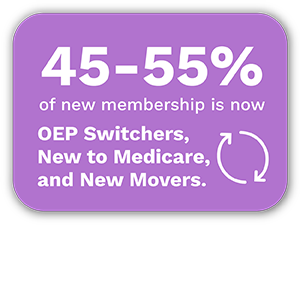 Q: Did any particular points from a speaker stand out to you?
Oram: "I LOVED the keynote speaker, Meridith Elliot Powell, a renowned Business Growth Expert (and not just because we share a name with rare spelling). Very motivational and aligned with my strong belief in the importance of lead nurturing; including intentional follow-ups that are 70% valuable education and 30% asking for the sale."
Stauffer: "One of the most fascinating speakers spoke on user behaviors and psychology; the hamster wheel was spinning in my head on how to apply these with marketing. 2020 was FAR different than my first year at RISE, where it was all about direct mail."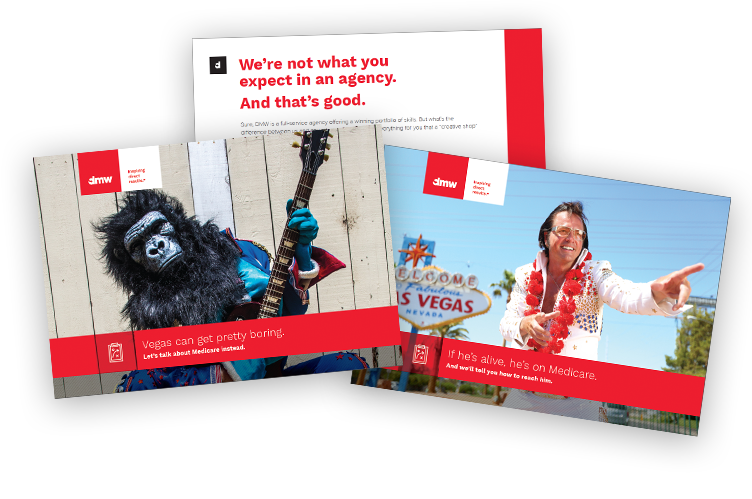 Mezzanotte: "George Dippel, Senior VP of Client Services at Deft Research, reinforced that 'Nothing is more important to predicting loyalty than a member who feels their plan has adequately explained benefits and coverage.' DMW has talked about that very point for years. This is particularly important given all the new supplemental benefits that members now have available."
Q: Speaking of loyalty and retention, how important is member communication these days?
Silva: "Retention is more important than ever. Members are not loyal and will do their due diligence every year (especially 65- to 70-year-olds) to ensure they are receiving the best benefits."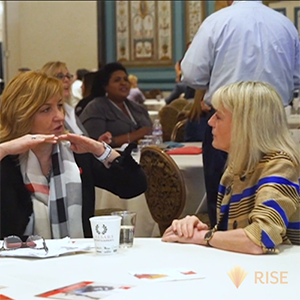 Mezzanotte: "It's critical that members understand each benefit so they understand the value. A strong, timely member onboarding program is paramount. One welcome kit is not enough. A sustained communication through the first 90 to 120 days will ensure members truly understand their benefits."
Oram: "I was interested to hear how important the Welcome Packet is both for new members of a health insurance plan, as well as patients of a health care provider, like our client HealthCare Partners Nevada. That effort sets the stage for a long-term relationship. I liked how it was referred to by Deft Research as 'the first hug.' If the new member doesn't receive it in a timely manner, they feel abandoned and it's a bad first impression."
Q: Any discussion about disenrollees — do former members have a place in a retention program?
Mezzanotte: "One health plan spoke about disenrollees during the AEP. They said that 'during the AEP, over 20% of their enrollees did not know they disenrolled!' So yes: It sounds like continuing to actively reach out and stay in touch with disenrollees can be a solid part of your retention efforts."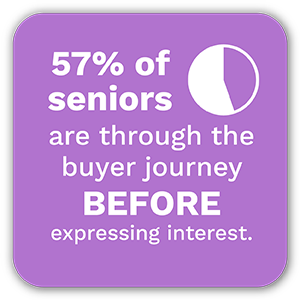 Q: With over 24 million* projected to enroll in Medicare Advantage plans in 2020, is that becoming the only game in town?
Silva: "MA is currently a stable market; but there is much volatility in the Medicare Supplement marketplace. It's a good time to try and go after the Med Supp audience, since premiums will be going up, while MA benefits are increasing. MA PPO plans were a game changer this past year and I suspect they'll continue to grow in popularity."
"The bottom line: Remember, it's not always all about the "zero dollar" premium. You need to always sell your value proposition and justify your plan's price. Make sure your members and prospects know the value they're getting from your plan and sow the "seeds of doubt" so the risks of going with another Medicare plan are top of mind"
Q: Which media are 65+ consumers using to shop for a Medicare plan?
Oram: "RISE MMS confirmed what we already knew: Seniors today have evolved with the times. They're researching online to compare plans and benefits. They will still read direct mail, but the majority are getting online to learn more. 57% are through the buyer journey before they even raise their hand to express interest."
Stauffer: "2020 was FAR different than my first year at RISE, when it was all about direct mail. Digital was very much on everyone's agenda. Our greatest successes in the past couple of years are with full, 360° multi-channel campaigns."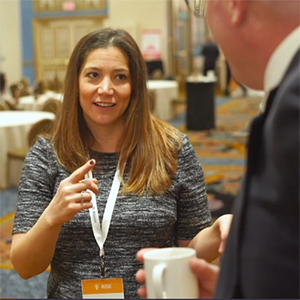 Q: Were people talking about how the 2020 elections may impact Medicare marketing during the coming AEP?
Stauffer: "There was a lot of discussion on the impact of the 2020 elections. Many plans are legitimately worried about it. I was definitely against the grain when I said I am not at all worried about it within our digital marketing efforts."
Mezzanotte: "The RISE session about the expected impact of the 2020 elections on the health insurance industry created lots of buzz. After that session, attendees were asking each other what marketing planning they need to do in the face of untold political ad spending and a distracted consumer mindset. Fortunately at DMW, we've been through it enough times to know which strategies and tactics provide successful lead generation in spite of the media spend by candidates."
Q: Loneliness can be a health problem for seniors, did that come up?
Silva: "Combating senior loneliness was discussed by a number of plans to improve the health of seniors. MMS speaker Chris Hugo, Director of Marketing at HealthCare Partners Nevada and a DMW client, mentioned a stat that 'loneliness had the same equivalent as smoking 12 cigarettes a day.' Plans are finding ways to combat loneliness — like transportation, senior events, and pet therapy — I'm feeling that will continue as a trend."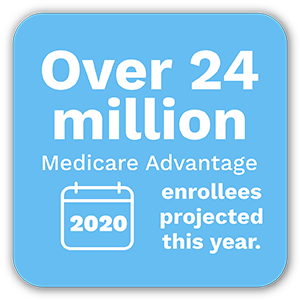 Q: Did any sessions cover the often-overlooked need for referrals?
Mezzanotte: "A great session on referrals reminded everyone of how powerful they are. Every interaction with a prospect and member is an opportunity for a referral. If a field service rep or broker becomes known as a trusted resource (not just a salesman), they are sure to receive referrals. But the most important note is not to wait for a referral. Plans must actively pursue them."
That's a summary of just some of the impressions and takeaways our team absorbed. Of course, there was lots more over the full three-day event. If you're planning your Medicare marketing campaign for AEP, as well as year-round New to Medicare, member retention, and SEP acquisition, DMW is ready to share all that we've learned in decades of helping plans coast-to-coast strategize, plan, and execute. Contact us today!
Editor's Note: RISE reprinted this post online, "DMW execs offer key takeaways from RISE's 2020 Medicare Marketing & Sales Summit."