I recently attended the two-day Healthkey Summit in Philadelphia — these are exciting times for health care! Even as the pandemic amped things up, technologies and trends were already in play that may cause a revolution in provider-payer partnerships as well as the marketing world.
I walked in the door knowing that provider-payer partnerships are "hot." But I was a bit taken aback by just how massive this bandwagon is. Many parties are deciding to join in: with fundamental and far-reaching implications for the entirety of health care/health insurance delivery systems.
Is this a good thing? I'm saying yes and no — but I'm not playing a strict Switzerland. You're going to get the reasons behind both my definite, enthusiastic "yes" and a rather reserved "no" on the impact of this pervasive intermingling of our care and our insurance.
Provider-payer partnerships are poised to meet consumers' growing need and desire for affordable coverage — with superior care.
Philadelphia, a city with many facets of health care enterprise: A sensible venue.
It's only fitting that the Healthkey Summit be held in Philly, with its heritage as a "City of Medicine," the site of pioneering early establishments of hospitals and medical schools. Pennsylvania Hospital was co-founded here by Benjamin Franklin in 1751 as America's first general hospital.
Before 1751, the region depended on friends and churches for its health services.* It might be difficult to imagine now in the 21st Century, but medical institutions, as such, were an absolutely groundbreaking idea based on Enlightenment thought from Britain. A hospital … a largely voluntary institution for the care of everyone, even the poor and strangers … such a concept had never been imagined. Today, health care is synonymous with our region. Stroll around Center City and you'll be met with a sea of scrubs and white coats. Is there a doctor in the house? You bet!
So, what is the fuss and what are we talking about here in Philly nearly 300 years since Ben Franklin's hospital?
The new opportunity: provider-payer partnerships. There's a lot to discuss here.
Provider-payer, essentially, is when a health system collaborates with a health plan, i.e., an insurance company (the payer). These collaborations are taking various forms. They can involve only specific products or lines of business. They may be joint ventures … designing products or services together, from the ground up. Or they can be a complete, long-term integral merger.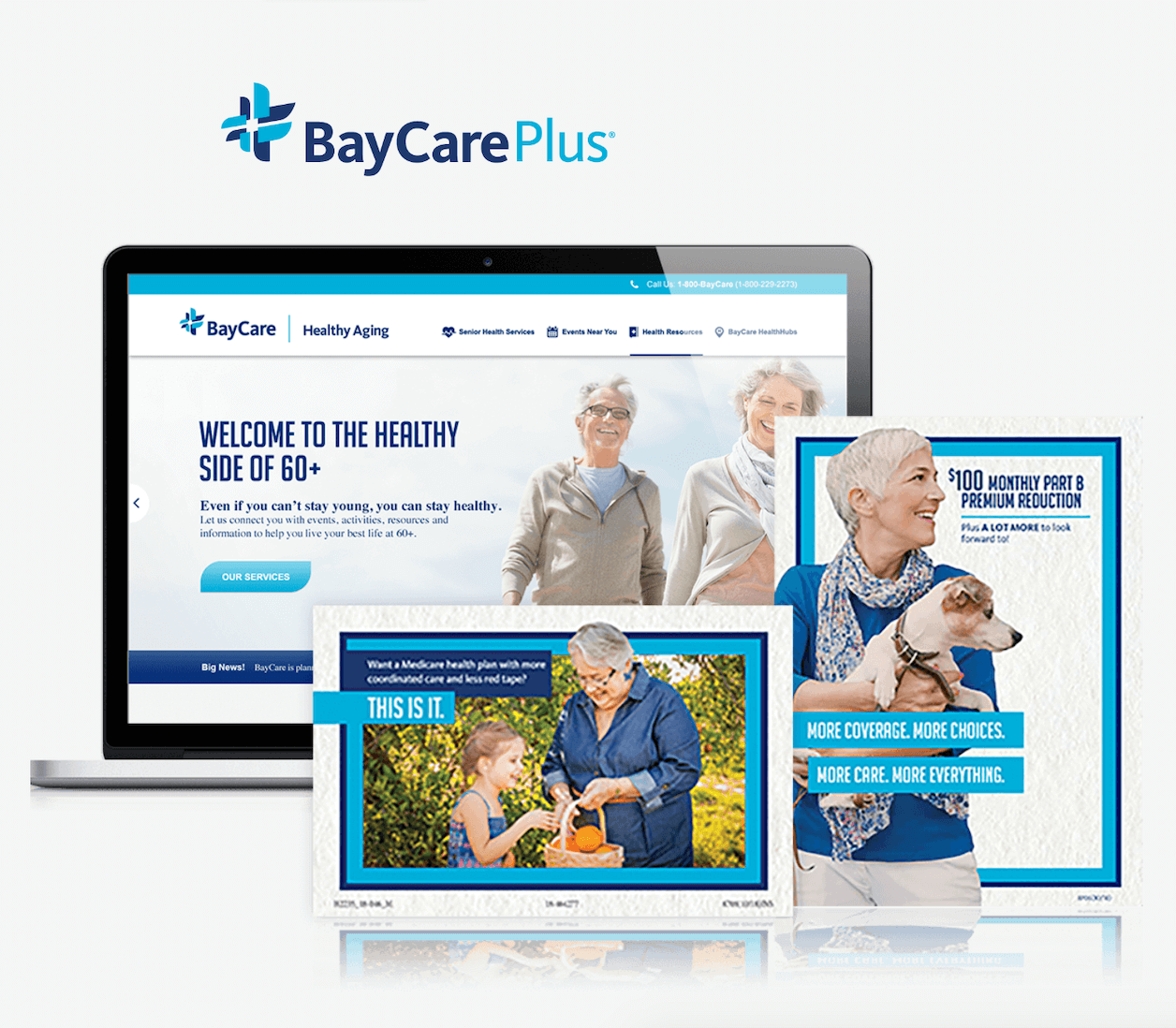 BayCare, the leading not-for-profit health care system in Tampa Bay, entered the region's incredibly competitive Medicare Advantage space as a new provider-sponsored plan. DMW's Action Brand™ campaigns generated nearly 10,000 new plan members in just three years!
Whichever form they take, these collaborations have a profound impact on the respective parties. In the case of a merger, each entity now gains access to the other's resources, i.e., the payer has potential influence on the provider's patients/point of care, and the provider now has the payer's revenue generation/premiums. Joint access to these resources, ideally, will yield more effective cost management.
Value generation for the two stakeholders should not be the only goal, however. Better care management for their insured patients, leading to better overall consumer value, also has to be an enticing ambition, and a reality.
Here's my enthusiastic YES about these partnerships.
Provider-payer partnerships are poised to meet consumers' growing need and desire for affordable coverage — with superior care. While mergers need to look good on paper for any two entities, consumers are in dire need of relief in terms of their costs for health care. And that is the real promise of these mergers for me.
These provider-payer partnerships are more than just a commitment to profit and to shareholders: They are commitments to care.
For consumers, provider-payer plans are often love at first sight. Who wouldn't want to see a stalwart health care world branded onto their health insurance plan? But what really matters is … beyond the initial wooing phase … do consumers actually end up really, really LIKING these plans?
If the consumer has a good experience at a reasonable cost, and they're actually feeling better, then they will be happier about their health care plan. THAT leads to better health outcomes, dollar value, plan feedback, better CMS star ratings, and a burgeoning plan membership. You're developing healthier communities. You are on track for sustainable growth.
DMW is well poised to market provider-payer partnerships — we're no stranger to them.
How does such a plan bring their promise to life for prospective members? Variations on a theme that has resonated well with clients and consumers are that these partnerships represent care and coverage working better together for you.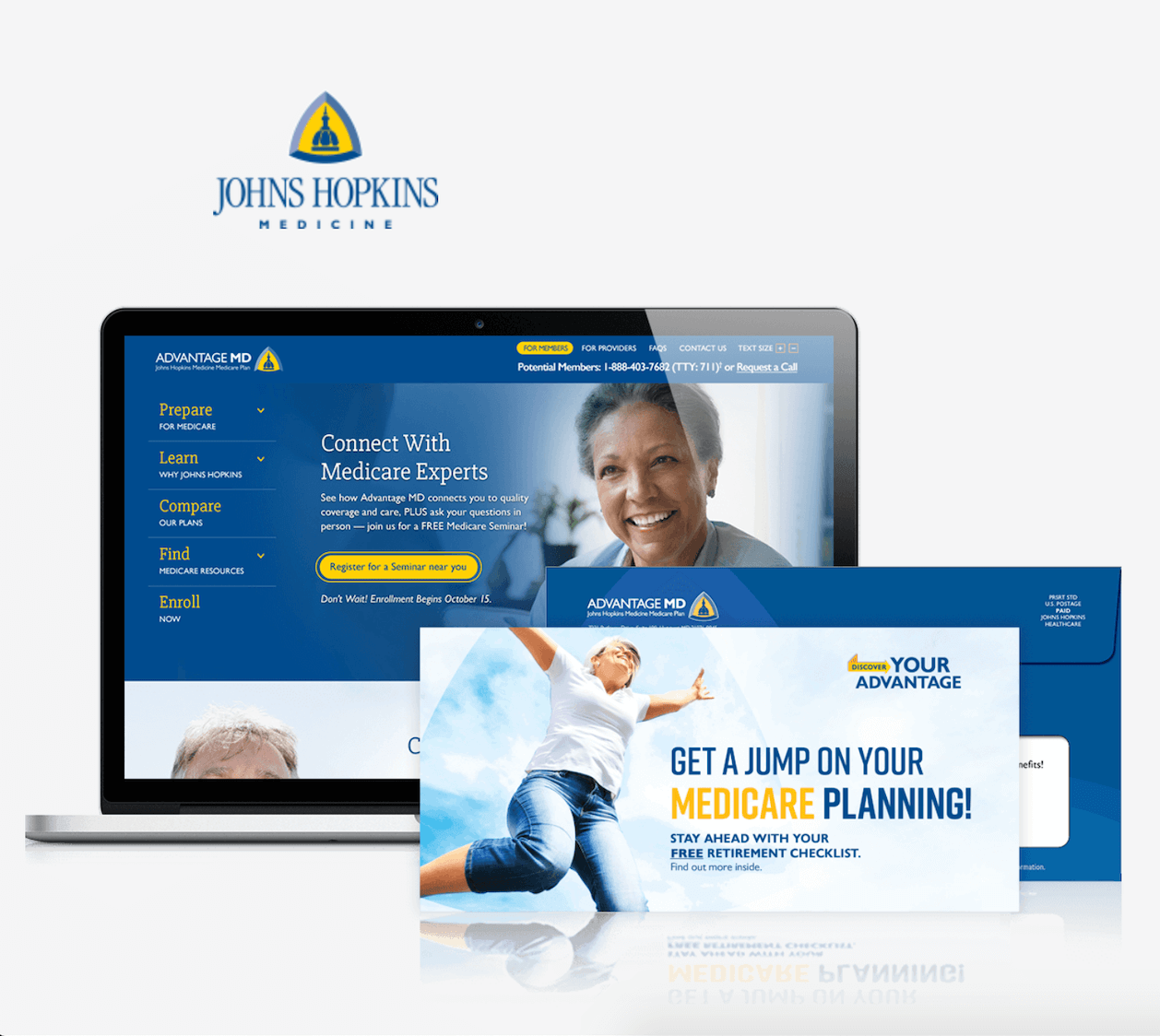 Johns Hopkins Health System hired DMW to launch a Medicare Advantage plan in Maryland, where Medicare Supplement plans ruled. Our Action Brand™ campaigns created a new marketplace presence — Advantage MD — that grew to 14% market share in just 36 months!
Now I can have a payer who cares enough about my health that they've partnered with a health system: primary doctors, specialists, and hospitals. Plus, a provider partner who cares enough about me that they want to work with this particular insurer whom they respect to give me my cake while I eat it, too: getting superior care while costs are managed to keep my expenses as reasonable as possible.
Now — here is my cautionary NO.
Yes, the more reputable organizations that decide to be part of the solution to solve health care issues, the better! But, when these merged entities prioritize building their bottom line and fail to collaborate and solve the big health care issues, that's when my "NO" stance comes into play.
Our "City of Medicine" here has not been without its share of opportunists throughout the centuries. It just goes with the territory of health care entrepreneurship. We invest so much, emotionally and physically, in our health care. How could health care not be incredibly ripe for those looking to profit from people's emotions?
Provider-payer partnerships, just like any merger, are about commitment. Each entity takes a huge risk, with similar huge investments of time and money. But the other parties in these giant equations, the plan members, are by far the most important. That's because these partnerships are more than just a commitment to profit and to shareholders: They are commitments to care … for people's health, well-being, finances, their very lives.
Affordability for members is a huge issue, and one that still needs to be tackled. One of the best ways to deliver affordable health care is through collaboration. Payers and providers must work together to find ways to bring affordable health care to the communities served, beyond just realizing profits for each other. If we are not accomplishing this goal, then is it really "health care" at all?
DMW has developed successful direct response campaigns for pioneers in the provider-payer field … health insurance plans from Florida to Connecticut, Maryland to California.
We know a lot about commitment.
As Woody Allen said, "If 90% of success in life is showing up, the other 10% depends on what you're showing up for." A good partnership is something we certainly want to not only respect, but to help cultivate.
As DMW has been engaged to lend marketing expertise to launch and help shepherd the growth of provider-payer partnerships across the country, we are especially aware of their responsibility — to their business partners, and to future members and their communities. Healthy communities are better communities. My own town is a living example of this every day.
We've had the privilege of working with numerous clients who have been pioneers in the provider-payer field … health insurance plans from Florida to Connecticut, Maryland to California. In fact, both the BayCare and Johns Hopkins campaigns shown above were recognized as Top 10 plan launches by RADAR on Medicare Advantage.
While the Medicare Advantage landscape grows more crowded every year, we love seeing our provider-payer clients gain traction and succeed.
It's an exciting time for health care. And DMW is excited to be part of it.
If you are interested in bringing your provider-payer partnership to life, contact me today. DMW will help build your brand and go-to-market strategy, target the right audience with standout direct response creative, and provide the surround-sound media mix that you'll need to succeed in this new health care frontier.