At DMW, we're known for our proprietary Action Branding™ — brand-sensitive direct response creative that generates leads, conversions, and a measurable return on investment (ROI) for our clients. The gravy on top is when our work wins awards for superior creative execution, too.
We're thrilled to announce that DMW received six AVA Digital Awards in the 2022 competition. The AVA Digital Awards is a renowned international competition. The judges recognize and reward excellence by creative professionals responsible for the planning, concept, direction, design, and production of digital and video communication.
These awards demonstrate our commitment to marketing excellence across the digital space, including audio and video production, website development, social media, and mobile marketing. In addition, our award-winning work spans multiple industry categories, such as nonprofit, health care, and health insurance.
Show consumers what they want, and they'll want your brand even more.
Intermountain Healthcare DRTV spot — Platinum Award, Video Production
Our client, Intermountain Healthcare, operates myGeneration Clinics, a chain in Nevada that specifically targets the Medicare insurance audience. DMW was tasked with developing a new direct response TV spot that would stand out in one of the most competitive industries around, health care, and break through the clutter during the Medicare Annual Enrollment Period (AEP).
The Intermountain Healthcare "My Way" DRTV spot was part of an integrated campaign that included digital ads, direct mail, print, and outdoor. It created buzz in the marketplace, boosting both awareness and response.
After diving into a new consumer research study, IMH tapped DMW to help scope and develop, the DMW creative team devised "My healthcare. My way." This uniquely ownable theme leveraged the myGeneration brand identity and promoted a powerful, and ownable, value proposition. The theme was woven into the TV concept creating a compelling brand value story that yielded outstanding results in the marketplace.
"One-Of-A-Kind" TV concept gives the individual consumer a voice.
MediGold DRTV spot — Platinum Award, Video Production
MediGold is a not-for-profit health plan that works with local health systems across four states to deliver compassionate, quality care to Medicare members. It may not sound unusual, but there's a big brand differentiator: The MediGold plan was created and is directed by physicians — not profit/loss focused insurance CEOs. And their members love it! DMW took that unique aspect about the brand, and turned it into a DRTV spot to deliver healthy results.
Our "One-Of-A-Kind" concept uses a unique blend of live talent, animated graphics with whimsical sound effects, and a peppy music track to deliver a personable, compelling direct response TV spot.
In this DMW-created-and-produced DRTV spot, we gave typical consumer personas a voice, so they could react to what they hear about the MediGold plan. Some display skepticism, reflecting a real-world attitude toward ads. MediGold responds by touting a different, more caring, benefit-packed plan option for Medicare-eligible households. More than just dispelling consumer doubt, the spot then directly asks for the sale. And response jumped compared to the plan's previous campaigns.
How blog articles helped convey more than information — they helped sell!
Intermountain Healthcare (IMH) Blog Series — Gold Award, Digital Marketing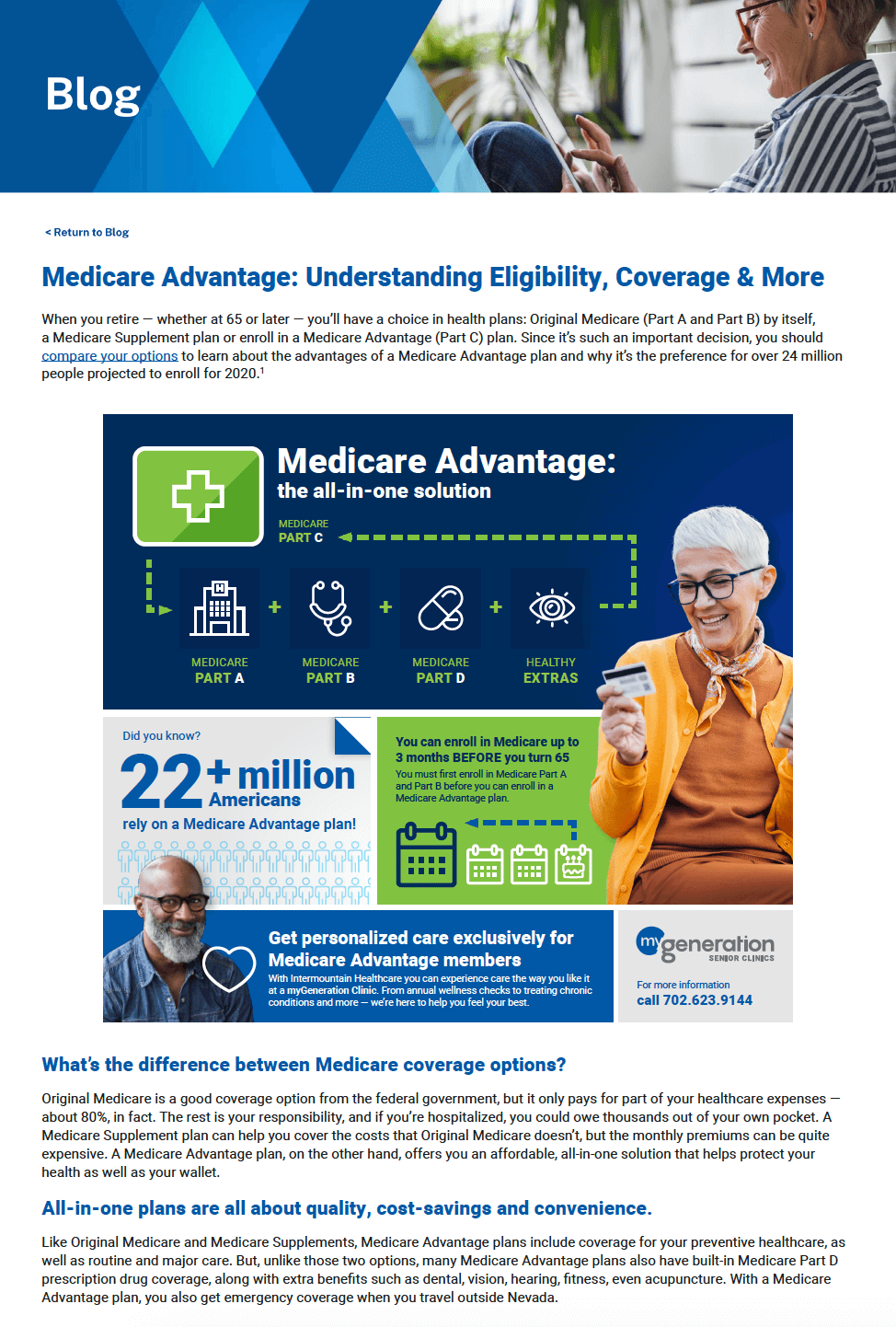 The challenge for Intermountain Healthcare (IMH) was to help prospective Nevada patients who visited the IMH website understand their Medicare coverage options and "get" the advantages of Medicare Advantage plans including, in the Las Vegas area, exclusive access to IMH's myGeneration Clinics!
DMW developed a series of three articles that would seamlessly fit into IMH's existing stream on the blog. To meet the challenge head on, we took an authoritative, yet friendly copy tone supported by infographics, warm images, and multiple subheads and bullets to help communicate at a glance.
The result was web pages that continually help generate site traffic and high consumer engagement — with page view times averaging 3 minutes!
"Hometown Help" really helped bring home a winner!
Keystone First VIP Choice DRTV spot — Gold Award, Video Production
VIP Choice is insurance for people who would never dream of getting the "VIP treatment" for anything, let alone health care. Qualifying for both Medicare and Medicaid benefits and services, these "dual eligible" folks are typically lower income, older age (65–80+), and have multiple health issues with limited support networks. The challenge was to reach the target audience and convince them there's a local health plan that understands their needs and offers more health care benefits and services that won't cost more.
Not only does "Hometown Help" employ solid direct response TV practices — like a phone bar and strong calls to action — it also has a powerful brand awareness aspect thanks to a warm, neighborly human touch in the cinematography and production value.
DMW developed the DRTV concept "Hometown Help," employing clear, simple messaging and visuals that talk directly to the audience. Our spokesperson introduces the high level of care and benefits the VIP Choice plan delivers. The main talent, portraying a friendly peer to the audience, shares her good feelings about the plan. And the spot wraps with her delivering the campaign umbrella theme, "VIP Free for me!" Add it all up and our client's YoY results showed the power of a perfect formula to get consumers to pick up the phone and call to learn more.
Mobile-first strategy hits home with Medicare-Medicaid audience.
First Choice VIP Care Plus Landing Page — Honorable Mention, Web-Based Production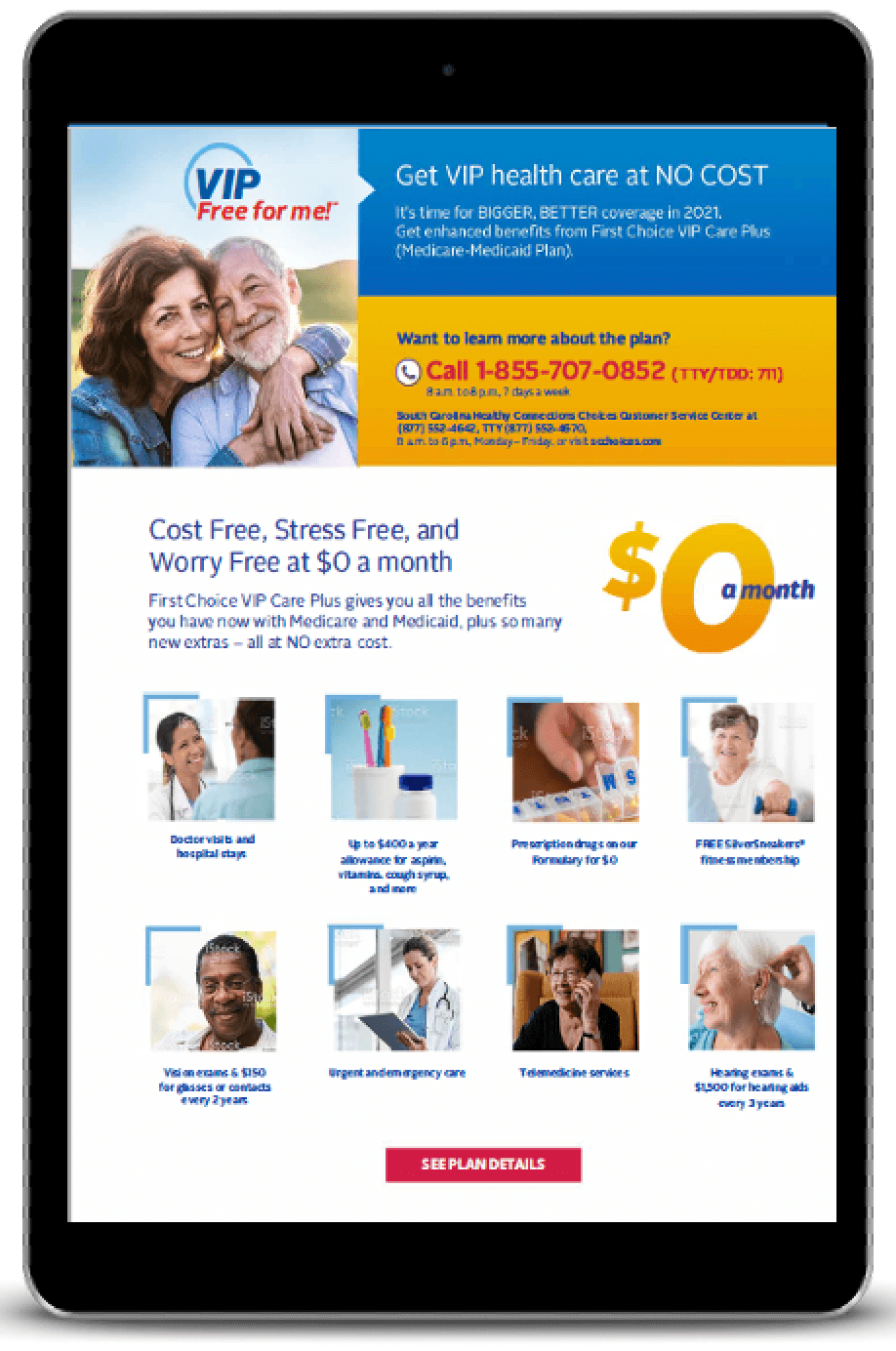 Also going after Medicare-Medicaid "dual eligibles," this landing page had to speak to those individuals who qualify for the many added health benefits and services, and get them to comprehend what's readily available and how they can easily take advantage. No easy task for this target audience.
DMW developed a mobile-first digital campaign that kept things simple — smartphones are the targets' main form of communication.
Digital ads drove to a landing page with at-a-glance benefit messaging and a compelling theme that helped consumers get a handle on the $0 premium plan offer, "VIP Free for me!", and take action to enroll.
A matchmaking site that Medicare consumers can love!
BlueCross BlueShield of South Carolina Microsite— Honorable Mention, Web-Based Production
BlueCross BlueShield of South Carolina had 20 Medicare insurance plans to choose from. But to a consumer, all those choices can be daunting. So DMW created a friendly, easily accessible web presence to help shoppers age 65+ find the best Medicare plan for their health needs and lifestyle.

This unique Medicare website featured a home page (at left) with the matchmaking quiz in the A spot, with call to action to get started. An "in progress" page showed users how close they were to finding the right plan for their needs.
In short: Not unlike those all-too-familiar matchmaking apps, we developed a Medicare matchmaking site. All consumers had to do was answer a few simple questions to get a short list of plan choices they'd love!
"The AVA Digital Awards are from entries around the world. So it's quite an honor for DMW to be recognized among some of the most respected ad agencies, digital shops, and web designers," said Bill Spink, EVP and Chief Creative Officer of DMW. "Our team prides itself on being able to create compelling direct response work, no matter the medium."
Want award-winning digital that builds your brand and your market share?
Contact DMW today for a no-obligation consultation. We'll talk about your business and what you could be doing to break through the digital marketing clutter — and get response!
# # #
About the AVA Digital Awards
The AVA Digital Awards is an international competition that recognizes excellence by creative professionals responsible for the planning, concept, direction, design, and production of digital communication. Work ranges from digital campaigns — to audio and video production — to website development — to social media engagement — to mobile marketing. Visit https://avaawards.com/ to learn more.
About DMW
DMW is an award-winning, full-service direct response agency with 38+ years of experience across all media: digital, video, TV, direct mail, and print. DMW has an especially deep practice in health insurance and health care for the 65+ population, plus other lines of insurance and financial services. Clients rely on us to produce successful response marketing strategies and tactics driven by data insight, media placement and analysis, digital/mobile expertise, and breakthrough creative. Our team is focused on Core Values — connected, inquisitive, accountable, authentic — that motivate us to do great work and Inspire Direct Results. To learn more, please visit www.dmwdirect.com.