Award-winning projects demonstrate ability to connect digitally
January 30 2018; CHESTERBROOK, PA – DMW Direct has been honored with nine 2017 MarCom Awards, highlighting the agency's success in integrated omnichannel marketing. The agency lived up to its credo to "Inspire Direct Results," netting three platinum, four gold, and two honorable mentions across a variety of categories.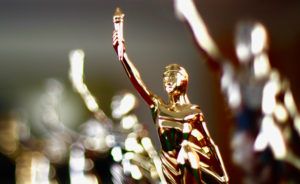 "Marketers must continuously adapt to their audiences' behavior, which is increasingly distracted and absorbed by various digital and offline mediums and messages," said Bill Spink, EVP and Chief Creative Officer for DMW Direct. "You can't succeed as a one trick pony or single channel expert. We're very proud of the awards we've received, which represent the broad range of integrated marketing capability we employ for our clients every day."
DMW Direct earned two awards for Premera Blue Cross: Platinum in the Marketing/Promo Campaign/Integrated Marketing category and Gold in Facebook Engagement category. The "Happy Place" campaign spanned both on- and offline media to drive engagement and brand enthusiasm. This initiative successfully engaged plan members on Facebook in measurable quantities. Specifically, the campaign encouraged seniors in Washington State to engage with their local Blue Cross, and share their "Happy Place" (depicted in a series of fun activities) to build engagement and affinity during the Medicare Enrollment Period — and subsequently boost enrollment — with Premera Blue Cross.
The Hopkins Advantage MD "Smart" New-to-Medicare campaign won Gold in the Marketing/Promo Campaign/Integrated Marketing category and was also recognized with an Honorable Mention in the Website category. The "Medicare Smart" integrated campaign targeted individuals moving to Medicare. It included multiple direct mail touches as well as emails staged 12, seven, and three months before an individual's 65th birthday leading to a dedicated microsite.
A launch campaign for Hamilton National Income Trust earned Platinum in the Marketing/Promo Campaign/Integrated Marketing category and Gold in the Website/Financial Services category. DMW's scope of work included logo and brand development, DRTV, website and digital promotion. Through solid strategy, good creative design, and savvy media buying, the initial test garnered 1,500+ leads in its initial weeks in two test markets. The TV spots – featuring actor Patrick Duffy – directed viewers to a microsite with information, a downloadable prospectus and online investment function. Various digital ads (e.g., Facebook, display) also encouraged visits to the enrollment site.
The Tufts Health Plan Medicare "Likes" enrollment campaign earned Platinum in the Marketing/Promo Campaign/Integrated Marketing category. A well-conceived and executed example of a sales presentation that began in the mail and drove to a landing page which — more than being graphically complementary — seamlessly picked up and continued the sales and persuasion story across channels.
A campaign for LifeWise Health won Gold in the Direct Mail category. The "magalog" mailer featured a unique format, which presented the revised and refreshed LifeWise brand created by DMW.
A "small but mighty" microsite designed for a South Carolina-based health insurer featuring various engaging assets and videos was recognized with an Honorable Mention competing in the Website category.
About the MarCom Awards
MarCom Awards honors excellence in marketing and communication while recognizing the creativity, hard work and generosity of industry professionals. Since its inception in 2004, MarCom has evolved into one of the largest, most respected creative competitions in the world. Each year about 6,000 print and digital entries are submitted from dozens of countries. MarCom is administered by the Association of Marketing and Communication Professionals. Learn more at marcomawards.com.
**About DMW**
DMW is an award-winning, full-service direct response agency with 38+ years of experience across all media: digital, video, TV, direct mail, and print. DMW has an especially deep practice in health insurance and health care for the 65+ population, plus other lines of insurance and financial services. Clients rely on us to produce successful response marketing strategies and tactics driven by data insight, media placement and analysis, digital/mobile expertise, and breakthrough creative. Our team is focused on Core Values — **connected, inquisitive, accountable, authentic** — that motivate us to do great work and Inspire Direct Results. To learn more, please visit [www.dmwdirect.com](http://www.dmwdirect.com "http://www.dmwdirect.com").
For more information or to schedule an interview, please contact Christina Clausen at [cclausen@dmwdirect.com](mailto:cclausen@dmwdirect.com) or 484-383-0153.