Bringing a passion for graphic design and impressive work ethic to the agency.
DMW is pleased to announce that Laura Penn has joined the agency as a Studio Coordinator after spending her summer interning with the Creative Services department.
Laura graduated May 2019 from Arcadia University with a Bachelor of Fine Arts degree in Graphic Design.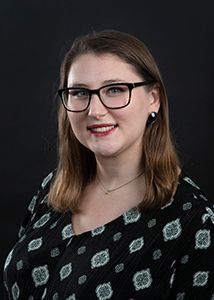 While working on her senior thesis at Arcadia, Laura supported the Mac Lab and Print Studio as a Studio Monitor. She also worked as a Graphic Design apprentice at a local retail business designing promotional items.
Her other work experience includes, graphic design for both the Arcadia Art Department Thesis Catalog and CSS Industries. Laura also spent the Spring of 2017 studying abroad in Melbourne, Australia, an experience to which she credits some of the inspiration in her work.
Outside of work, Laura remains dedicated to her passion for design through her love of vintage aesthetics and her talent for creating patterns and prints.
Laura's role at DMW will be a hybrid of production artist, project management, and general creative support for the agency. "Laura has really impressed us with her work ethic and initiative during her time here as an intern," said Ilia DeOrzio, Director of Project Management for DMW, "and we're thrilled to have her joining us full-time in an expanded role."
# # #
About DMW
DMW is an award-winning, full-service direct response agency with over 35 years' experience in digital, print, direct mail, DRTV, and radio across categories as diverse as health care, software, outpatient medical services, financial products and credit unions, auto and life insurance. Our clients rely on us to produce successful, multi-channel marketing campaigns that feature data insight, media placement and analysis, digital/mobile expertise, and breakthrough creative. We're driven by core values that motivate us to do great work and Inspire Direct Results. To learn more, please visit www.dmwdirect.com.
For more information or to schedule an interview, please contact Christina Clausen at cclausen@dmwdirect.com or 484-383-0153.