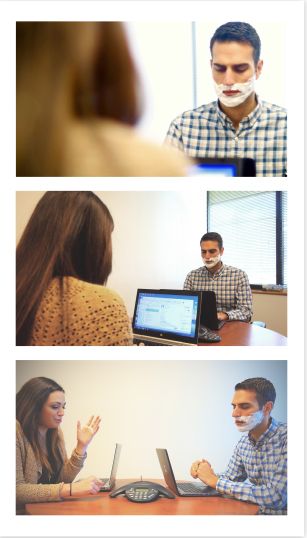 The customer experience provided by Dollar Shave Club has been almost as important as its products. Will that change under new owner Unilever?
It's no secret that strengthening customer retention rates can lead to a significant increase in profitability. But how are you implementing retention tactics? Are they working, or do they seem dull and need replacing?
In an earlier post, we considered the way Dollar Shave Club treats its members and the positive impact that a nurtured community can have on customer retention rates. [See Grooming Response: 3 Retention Tactics From a Dollar Shave Club Experience.] This post will focus on the three ways I believe they have achieved maximum retention.
As a reminder, Dollar Shave Club is a mail order membership program (don't call it a "subscription") that sends razor blades to you for a few bucks a month. They continue to crank out silly YouTube videos bursting with tomfoolery while nurturing their relationship with over 2 million monthly and bimonthly members. That's a lot of people and a lot of blades!
But Dollar Shave Club has been acquired by mega consumer goods manufacturer Unilever. There's no question that they know how to manage a multitude of brands. Just take a look at a this chart of global brand families and you'll be amazed at their reach. But the Dollar Shave Club situation doesn't call for stocking shelves in a grocery store. They need to maintain the level of intimacy and customer service that brings the product to their buyers' homes with ease.
I believe the Club's success and sustainability has been built on a foundation of the tactics listed below, highlighting that customer service and brand experience are just as important as the product. Hopefully Unilever agrees and doesn't try to mess with a winning formula.
1. Customer centricity pays off
Dollar Shave Club is all about the customer. Period. Their processes to sign up, order, and cancel are quite possibly the most streamlined I have ever experienced. The grooming products are of great quality at an affordable price. They reward members handsomely who spread the word. Their social media platforms invite members to interact in a variety of ways. They even incorporate member spotlights into their posts, drawing attention to a fellow member with the prospect that next time it could be you who is featured.
All of these efforts work to empower a customer's involvement and, more importantly, purchasing decisions. It makes it feel like a premium experience at a discount price.
2. Ease of customization makes it hard to leave… and that's okay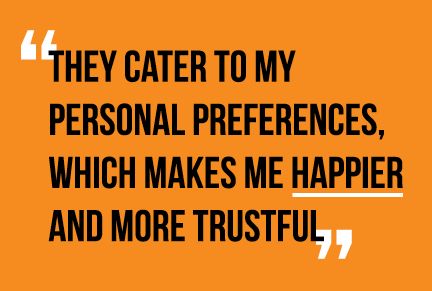 As a Dollar Shave Club member, my razor of choice is The 4X, which I receive every other month. For me, the best part is that I'm not locked into that decision for eternity! I have the ability to add or remove products from my order and even change the frequency of how often I receive those items. They cater to my personal preferences, which makes me happier and more trustful (or less distrustful, depending upon how cynical of a shopper you may be).
Subscription-based services too often lock you in without the possibility of cancelling or changing your order or preferences until your subscription term is up. If they do allow a change, it will likely cost you for that "convenience."
Dollar Shave Club knows you want it "your way" and strives to fulfill that at each interaction. While that mantra is not unique, they actually deliver on it where so many companies promise but fail to fulfill it. When it happens, this level of freedom to customize without pain is attractive and reassuring to a customer.
3. Innovative products and messaging (including a mobile app)
I mentioned above that Dollar Shave Club is active on social media, but they don't stop there. Order confirmation emails are regimented and pre-shipment emails are perfectly timed to encourage last-minute changes to your monthly or bimonthly order.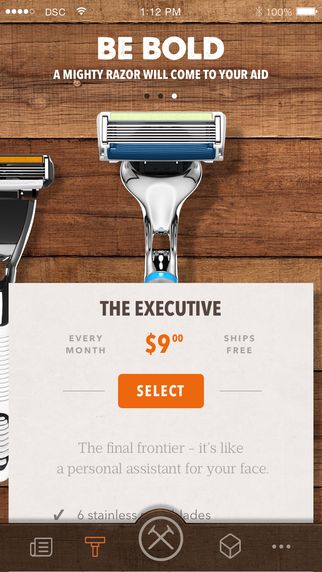 Dollar Shave Club's mobile app has made it easier for them to stay connected to members on the go.
In October 2015, Dollar Shave Club launched a mobile app that makes managing your membership even easier. Employing a mobile strategy such as this keeps them visible to their members at all times, which improves customer engagement and increases customer loyalty among other benefits, according to a Forbes article on mobile apps. Also, it makes the experience more convenient, which adds to the value of the membership.
On the product side, they have expanded beyond just selling razors and now offer hair, face, and body grooming products. Next up—a men's lifestyle website that could drive site and social media traffic to new heights (as well as sales, which is certainly their ultimate goal). Their willingness to innovate is paramount to longevity and growth, especially as more competitors (both traditional and start-ups) enter the space they created. Again, I'm curious to see how this progresses under Unilever.
The best retention tactic: Give people what they want (not what you want them to have)
When I consider my Dollar Shave Club experience – including price, products, performance, and customization – one of the things I value most is that they don't hold me hostage. As a member, I have never felt like I've been bamboozled, hoodwinked, or scammed in any way. No buyer's remorse has crept in. I'm not focused on renewal periods or changes to terms or agreements. It's all very simple, as it should be. Perhaps this is their strongest retention tactic.
Retention tactics require careful preparation and execution—much like you would employ when shaving. Carelessness can leave you burned and irritated while focused planning can reward you with smooth and attractive results.
Think about how your customers interact with your business. Whether you sell over-the-counter products or longer-cycle complex business solutions, every sale includes a customer experience. Is yours hurting or helping your business? How can you switch things up to make it easier and streamlined? Choose your retention tactics wisely and you'll be on the cutting edge.
Learn more about how DMW Direct can help you acquire and retain your customers.